The laundry room may well be the one room in your home you enjoy visiting least.
Like it or not, however, doing the laundry is an essential part of maintaining a clean and functional household.
According to General Electric, the average American family does 8-10 loads of laundry every week.
The average laundry cycle is 87 minutes, from the time your clothes go in the washer to when they come out of the dryer. That works out to somewhere between 600-750 hours per year most families spend doing laundry.
Yes, we'll spend a good deal of that time multitasking while the washing machine and dryer are running. Regardless, that's still a lot of time we spend in the laundry room every week.
Using these laundry room ideas to upgrade your space, you can make your time spent doing one of the home's most time-consuming tasks more enjoyable.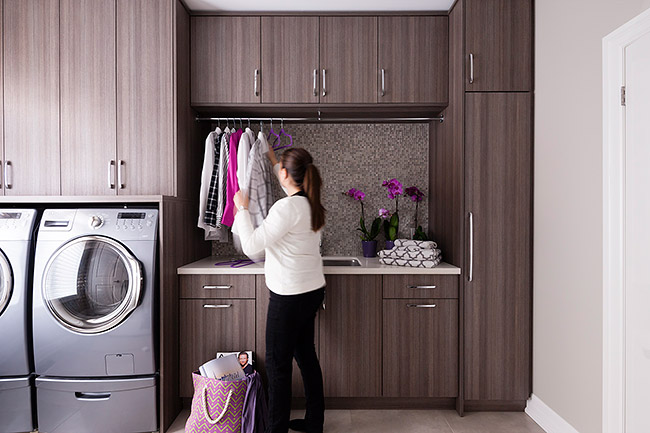 Create a comfortable and functional laundry space
Laundry rooms don't have to be drab environments that lack charm. With the right design ideas, a renovated laundry room can become a comfortable and attractive space that's also highly functional.
This will ease the aggravation you undoubtedly feel each week carrying out your laundry duties.
Consider centralizing your laundry room's location
The current location of your laundry room isn't necessarily where your renovated laundry room also has to reside.
The default basement location for laundry rooms is a thing of the past. More and more homeowners choose to have them on the main and upper floors of their residence.
Three main factors will determine whether or not a laundry room can be centralized in your home:
available space
whether or not your plumbing and ventilation can accommodate a laundry room relocation
noise levels of your washing machine and dryer if they'll be located close to sleeping and living areas (appliances are sold with added suspension and extra insulation features to reduce noise)
A centralized laundry room location helps facilitate a more efficient workflow. It's easier to access and closer to the bedrooms where most of your dirty clothes are coming from. That saves you time in the long run.
Improving the lighting improves the atmosphere
Good lighting plays an important role when it comes to improving your laundry room's atmosphere. Who wants to spend any more time than they have to in a dreary, dimly lit room?
Accent or ambient lighting on your ceiling can make a world of difference. Under-cabinet lighting and task lighting can also really transform your room's appearance.
Laundry room must-haves
Obvious laundry room essentials include a sink and a durable flat surface for sorting, ironing, and folding clothes. Think about adding any of these helpful features:
built-in laundry hampers with removable bags take up less space with their pull-out design and allows you to sort according to colour
pull-out ironing boards are another practical space-saver
hanging rods and adjustable valet rods allow you to air-dry clothes in your laundry room
pull-out drying racks are another option for hanging clothes that you don't want to put in the dryer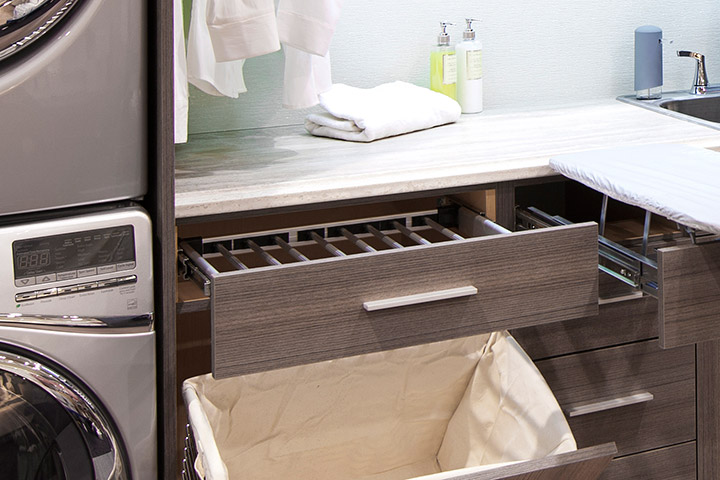 Stylize your laundry workspace
Make your laundry room more than a cold, impersonal workspace. A storage solution like custom laundry cabinetry can do wonders for modernizing your room's look.
It can also keep unsightly laundry and cleaning supplies behind beautifully designed doors and properly organized. You can also add locks to keep your children safe from harmful chemicals.
Add personalized touches to your laundry room to encourage your presence. You can add plants, framed artwork and photos or other artistic wall hangings, a rug, curtains or blinds, wallpaper, and a device for playing music.
Why not a multi-purpose space?
If the size of your house allows it, a renovated laundry room can become an even more functional space.
Reap the benefits of a multi-purpose space by also turning your laundry room into an exercise room, crafting area, storage space, or mudroom.
A renovated laundry room with modern touches can go a long way towards making laundry duties less burdensome.
To create a laundry room whose door you'll actually want to keep open and spend time in, set up a free in-home design consultation with us.
See also: