Mother's Day arrives on Sunday and you may be looking for Mother's Day gift ideas to surprise mom that are a little more creative and useful.
Yes, flowers and a card are thoughtful. However, these Mother's Day gift ideas aren't exactly original and their benefits are rather short-lived. They also won't produce the kind of "Wow!" reaction that our moms deserve to feel on this special day for all the hard work they do.
Giving the meaningful gift of organization is one way to make this Mother's Day truly memorable. Step up your gift-giving game this year. Here are seven Mother's Day gift ideas that mom will appreciate for many years to come.
1. Mother's Day gift ideas that transform the bathroom
Custom bathroom cabinetry as a Mother's Day gift will transform mom's bathroom space. Organized Interiors can design stylish bathroom cabinetry that caters to mom's aesthetic tastes, whether they're contemporary or classic.
Our bathroom vanities, linen units, and makeup tables offer a high degree of customization with finishes, decorative hardware, mirrors, countertops, and other chic design features.
2. Custom kitchen cabinetry
Help mom get more out of your home's kitchen space by upgrading it with custom kitchen cabinetry. Kitchen walk-in closets and reach-in pantries make smart use of your kitchen's storage space.
We can also design kitchen islands, minibars, specialty stations, and more practical cabinetry and features that enhance your kitchen's functionality for mom and the entire family.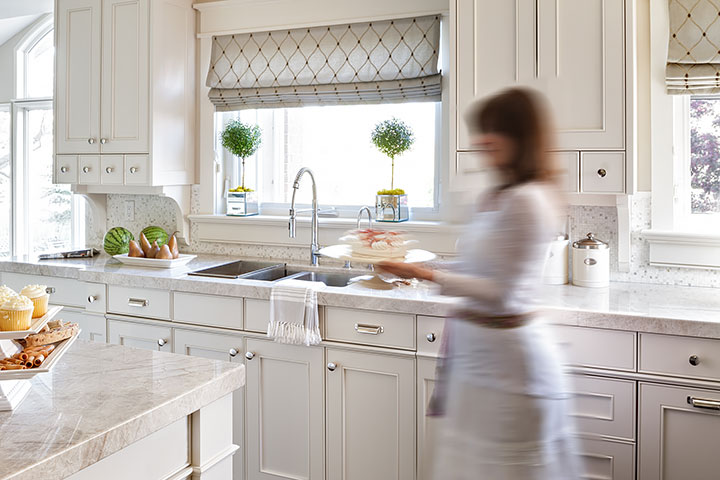 3. Mother's Day gift ideas to organize mom's closet
Home clutter is a prime source of stress for many of us. A significant reason for clutter accumulation in closets and bedrooms is the lack of a sensible organization system for clothing. This problem can be remedied by having a custom closet organizer installed.
This Mother's Day gift idea establishes an efficient system for mom to keep her wardrobe properly organized and stored. She'll be able to find what she needs much easier because closet organizers create dedicated homes for all your items while maximizing closet space.
The Classic closet organizer system features deep drawers and shelves to maximize storage space and can be added to a standard closet or walk-in closet. Choose from many different custom options to suit your taste and to complement your bedroom's décor.
The SmartLine closet organizer system is a modular closet organizer that leaves closet floor space open with its wall-mounted design. It also offers excellent flexibility to accommodate mom's changing clothes storage needs.
4. A stylish, spacious dressing room
When it comes to Mother's Day gift ideas that will really be appreciated by mom, consider treating her to a new dressing room.
We can create a dressing room out one of your small extra rooms and design a stylish and comfortable space for mom using our Custom Cabinetry Collection.
Mom's new dressing room will provide plenty of space to store her belongings and a private, quiet area she'll treasure every day.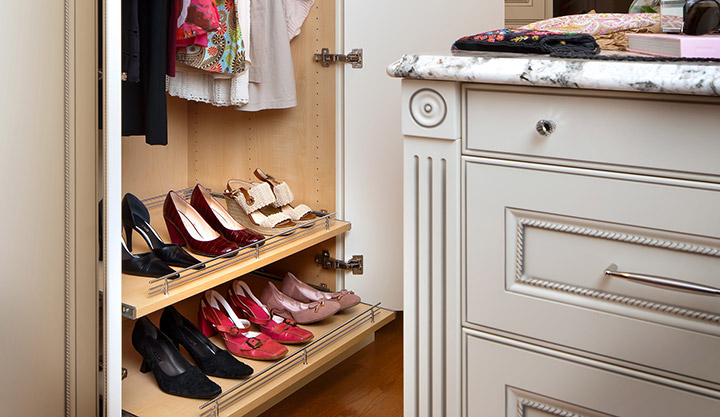 5. Closet accessories
Pullout shoe racks, jewellery drawers to protect mom's valuables and keep them organized, laundry hampers, and scarf holders are just a few of our many helpful closet accessories that add even more functionality to closets.
The simple addition of a valet rod takes up very little space and provides a useful tool for mom to hang up her outfit for the following day, which can help streamline her morning routine.
6. Mother's Day gift ideas for the entire bedroom
Along with upgrading mom's closet space, you can help her keep the rest of the bedroom organized with our custom bedroom cabinetry and storage solutions:
custom wardrobe closets can be tailored to mom's bedroom area and increase her bedroom storage space
sliding, bifold, solid panel, and mirror custom closet doors can be added to closets or we can add closet space where none exists with our create-a-closet® storage solution
a bed surround instills the bedroom with a stylish, cohesive look and maximizes its storage space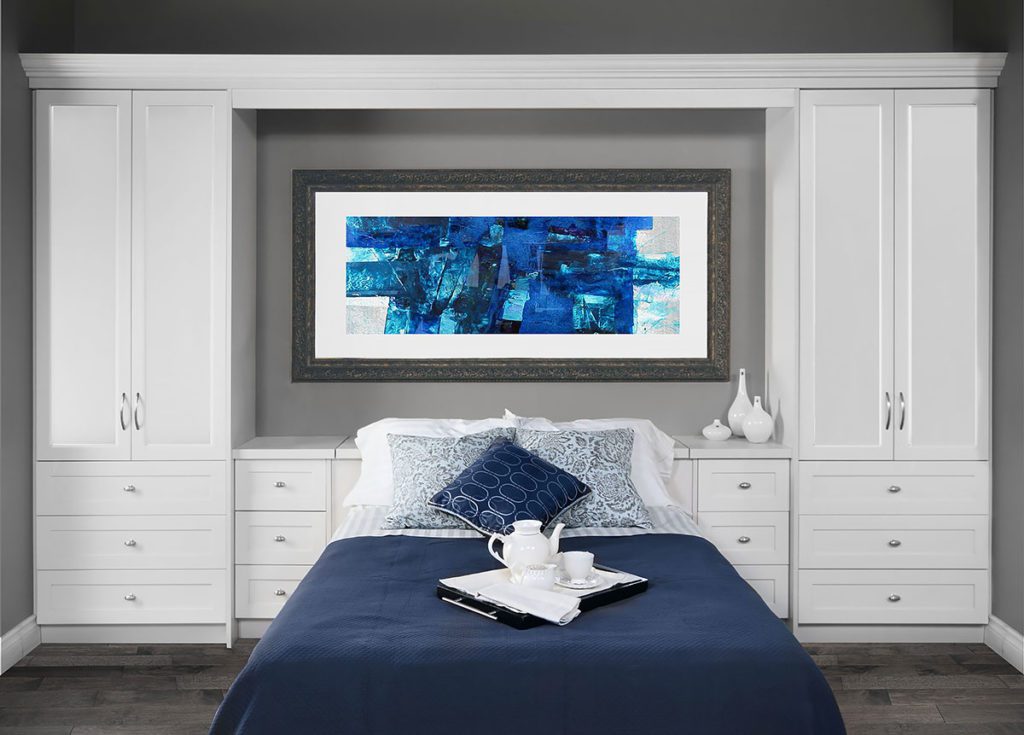 7. A laundry room makeover
A laundry room makeover can add a much-needed refresh to a frequently used room in your house that often gets overlooked when it comes to home upgrades.
Our custom laundry room cabinetry, accessories, and design ideas will modernize your laundry room's look and increase its usefulness for mom and any other family members tasked with laundry duties.
Mother's Day gift ideas that deliver long-term benefits
Let's face it – flower gifts only last a few days and Mother's Day cards will end up in a drawer before June rolls around.
This Mother's Day, treat mom to something special that delivers long-term benefits.
These Mother's Day gift ideas will help her stay organized and add more functionality to multiple areas of your home, along with improving its décor.
Schedule your free in-home design consultation today to plan your Mother's Day surprise!
See also: