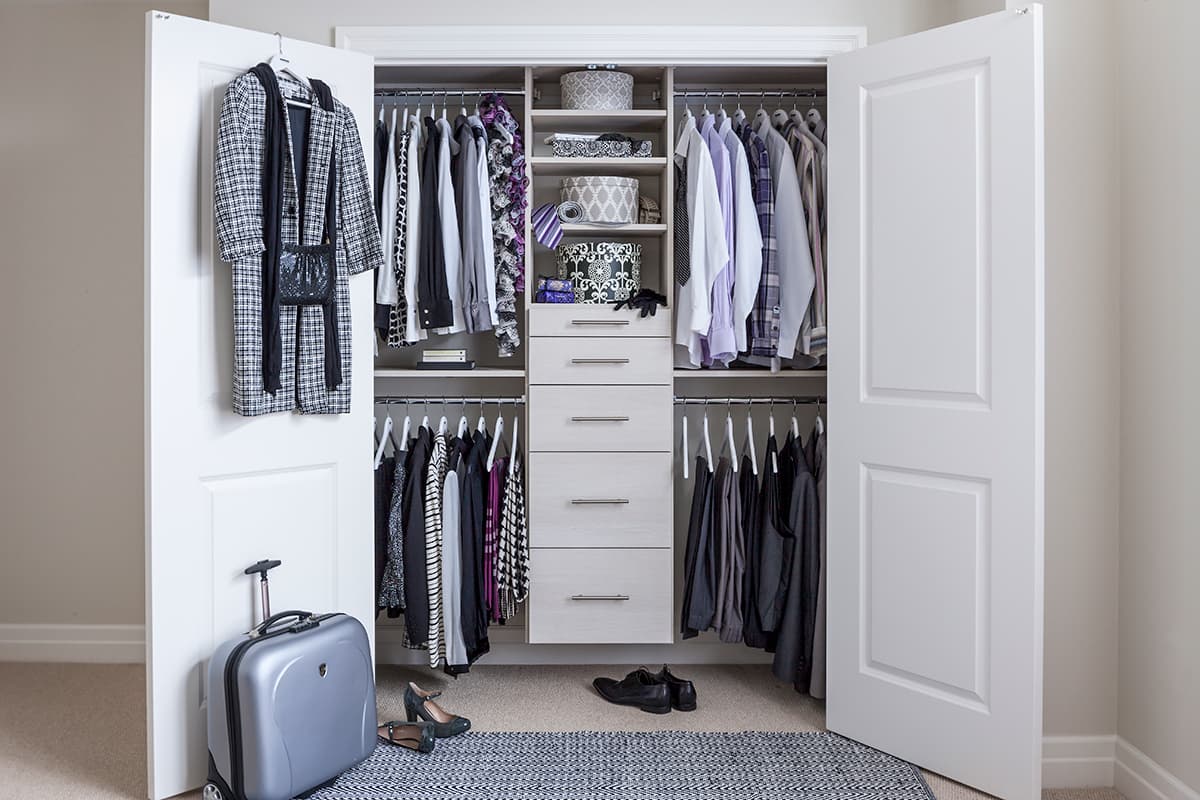 Reach-in closets are some of the most compact spaces in our homes. Is it any wonder they are often one of the untidiest areas in our living spaces?
Most closets are the reach-in type that is found in bedrooms, hallways, the front entryway, and throughout the rest of a house, condo, and apartment.
The two other types of closets, walk-ins and wardrobes (built-in or freestanding), are rarer, but no less practical than reach-ins. It all depends on your storage needs and available space. Some people put linen and utility closets in their own closet categories, but they're reach-ins as far as we're concerned.
The longer a closet gets used, the more likely you are to eventually encounter organization challenges. Sometimes the best solution to an organization challenge is to hit the reset button on how a space is set up.
That's what these reach-in closet ideas are for.
Reach-in closet ideas for better home organization
A reach-in closet is commonly 24 inches in depth and anywhere from three to eight feet wide. That space can fill up in a hurry. Look no further than a large family's overstuffed front entryway closet or a shared closet in the bedroom of siblings or a couple for proof.
Old homes and small condos are more likely to have smaller closets. Newly built homes typically come with bare-bones builder closets with just a hanging rod, a shelf…and a whole lot of wasted storage space.
Any reach-in closet design should consist of much more than a single rod and shelf, however. That's where closet organization systems and some closet design expertise come in.
Let's look at some reach-in closet ideas to get some of your home's most vital storage spaces operating at peak functionality.
1. Let a pro custom-design your reach-in closet
Builder closets and the majority of DIY closet organizers only provide the basics for what a closet needs. They don't exactly rate very highly in the looks department, either.
The quality, design, and appearance of most home closets simply can't compare to what a closet design pro can create.
One-size-fits-all closet setups don't work for most people. Of course, they don't! After all, everyone's wardrobe storage needs and design tastes vary widely.
Most of the closets in your home are used every day. Why not make these integral home spaces look and function their very best?
Having your closets custom-designed transforms them from generic-looking spaces that are endlessly challenging to keep tidy into aesthetically pleasing, highly organized spaces.
Skilled closet designers know that every inch of space matters. They're not just capable of modifying a closet, they can completely transform it by crafting a stylish, modern design that utilizes a closet's storage space for maximum efficiency.
2. Customize closets for their space in the home
Closet designs need to be tailored according to where they're located in the home. A front entryway closet, for example, shouldn't have a similar setup to a bedroom closet, which has more specific storage requirements.
Once again, that's why mass-produced, all-purpose closet organizer systems only get you so far. Below are some reach-in closet ideas for specific areas of your home.
Kids bedroom
Making a kid's closet that is easy to keep tidy saves parents from having to get involved to help them organize it every few weeks. An organized closet helps kids get ready in the morning faster and generally just makes a parent's life a little easier.
Have their closet(s) designed to accommodate both the wardrobe they have and the way they like to store their clothes. A drawer tower is ideal for a kid's closet, especially for children who prefer to fold their clothes instead of hanging them.
Wasted space in any closet can be turned into useful storage space by utilizing the space better with shelving or double hanging rods. Because kids will grow, a closet organizer system that allows for shelving height adjustments is recommended.
Adults bedroom
Your wardrobe should largely dictate how your closet will be set up. If you own a lot of formal wear, dresses, or prefer the long-hanging method for your pants, more closet hanging space will be in order.
If you're more the casual wear type with a lot of t-shirts, sweaters, and jeans, a closet configuration with more drawers and open shelf space is better for your needs.
The beauty of a custom closet design is that the space can be tailored precisely for your storage requirements. That's extra-convenient for anyone who shares a closet with someone. Each person can have their own storage needs addressed in their share of the closet space.
Front entryway
Because the front entryway closet is located in one of the home's high-traffic areas, it tends to become a "high-clutter" area as well.
Have the closet designed to maximize your storage space, but not become so overstuffed that it becomes an organizational mess. Utilize hooks and hangers for accessories and shoe racks to keep footwear tidy.
If the reach-in closet is large enough, consider adding a multi-purpose storage bench so anyone in your family can sit down to put on or take off their shoes or boots. The lift-up storage space beneath the seat provides useful extra storage space that helps keep the rest of the closet
Remember that a home's front entrance is the first thing visitors will see. According to one study, guests judge your home within 38 seconds of entering it.
Reach-in linen and utility closets
Most people don't give any thought to upgrading a reach-in linen or utility closet. There's no reason to ignore them just because they've traditionally been considered utilitarian storage spaces.
Both types of closets can be redesigned for better functionality and a more attractive appearance. Linen and utility closets are typically very small and require a fairly simple layout. Therefore, it's more affordable to have them upgraded. The project can be completed faster compared to a more elaborate bedroom closet remodel, too.
3. Add closet drawers for dresser-like functionality
One of our reach-in closet ideas can actually benefit the entire bedroom –  incorporate drawers into your closet's design. Here are the benefits of using drawers in a closet:
closet drawers eliminate the need for a dresser and free up extra bedroom floor space
helps keep all of your clothes in one area
more of your wardrobe is kept out of sight, which reduces visual clutter
drawer inserts and dividers help keep small items like jewellery, underwear, socks, and lingerie organized
save storage space by folding more of your wardrobe, including using the efficient Marie Kondo method of folding and vertically storing clothes
4. Have pullouts and other closet accessories installed
Having a bunch of your clothes stored closely together can make it harder to locate specific wardrobe items. Closet pullouts are a convenient way to make it easier to find your things quickly.
Closet pullouts come in various forms: shoe racks, pant racks, tie racks, scarf racks, and belt racks. A shallow, stationary shoe rack on the closet's floor and beneath hanging clothes may not get enough adequate light. Being able to pull out your shoes to choose your footwear for the day is very handy.
Alternatively, a closet with better lighting can be designed with stationary, angled shelving (with guards to keep the shoes from sliding off) that allows a shoe collection to be showcased and kept organized.
Pullouts and additional closet accessories like a valet rod and moveable hanging bar provide a proper storage place to keep all of your wardrobe accessories organized. In addition to augmenting a closet's functionality, they also add a touch of style to a closet.
5. Incorporate extra shelves
Too much closet space is wasted because the vertical space is underutilized. Incorporating more shelving into a closet's design provides better storage efficiency, especially at the top and bottom of a closet, which is commonly underused.
Shelves are versatile as well. They can be used to store everything from shoes to pants to sweaters. The space can additionally be used to display personal items, hold small storage bins and baskets, or simply be a temporary spot to put things like keys, wallets, or watches.
6. Brighten up your closet spaces
No matter how tidy it is, any closet will be harder to use if it has poor lighting. Some closets don't even have a light and the user has to rely on the main bedroom light to illuminate the closet interior. Needless to say, that's less than ideal.
Brightening up the enclosed space to reduce the number of shadows and provide more uniform lighting coverage will improve anyone's closet functionality.
If any of your reach-in closets are still relying on a single overhead bulb to illuminate the space or lack any lighting at all, it doesn't require much effort or cost to make upgrades.
Most modern closet lighting designs use LED lighting. LED lights stay cooler than incandescent and halogen bulbs, are more energy-efficient, and last much longer.
An overhead light fixture or recessed lighting are popular closet lighting solutions. Other options available are motion-activated lights and wireless puck lights. The latter is very practical since they can be mounted virtually anywhere in a closet. They're powered either by a rechargeable battery or disposable batteries.
7. Ditch the laundry baskets for built-in closet hampers
Many of the reach-in closet ideas we've covered improve the functionality of closets. Another practical use of a closet's space is to have one or more pullout laundry hampers installed.
Closet laundry hampers allow you to ditch those plastic laundry baskets. They have a removable cloth bag with handles that make it easy to transport your dirty clothes when it's laundry time.
You can put all of your dirty clothes in one easy-to-access place, which conveniently just happens to be where the rest of your clothes are kept.
Peak functionality for your reach-in closets awaits!
These reach-in closet ideas will improve your daily routine and give your closets a modern update with attractive finishes and stylish decorative hardware.
Make your closets into everything you want them to be, whether they're reach-in closets or walk-in closets.
Partner with a closet design professional like Organized Interiors to transform your closets. Get started by scheduling a free design consultation with us.
Please share this post if you found it useful.
See also: