Organized Interiors is renowned for our showpiece closets but that's not the only type of closet design we specialize in.
Not every home has the space for a large walk-in closet with features like an island and decorative add-ons such as crown moulding, baseboard, sculpted edges, and glass cabinet doors.
And naturally, a more elaborate closet project doesn't fit into every homeowner's budget.
A custom reach-in closet or smaller walk-in closet with a simpler design can still work wonders for your bedroom's storage functionality, while still providing high quality and stylish looks.
Advantages of choosing simple closet ideas
Transforming a closet space of any size with a smarter layout and features to maximize storage space is a great investment and comes with undeniable benefits.
Most importantly, you'll streamline your daily routine by having a home for everything, which makes the closet easier to keep tidy.
Your closet's old interior may have consisted of little more than a well-worn hanging rod, sagging top shelf, and poor lighting. A closet makeover will refresh the appearance of your wardrobe storage space.
There are also some specific benefits to using more simple closet ideas when you're having a closet's design put together by a professional:
they're obviously more affordable, allowing homeowners with more modest budgets to still have a closet designed that fits their needs
your order will usually be able to be turned around in less time, so you can get your closet storage needs addressed quickly
Get inspired with these simple closet ideas
We wanted to show you some simple closet ideas that we've incorporated into some of our completed projects. 
The photos show that a less elaborate and modestly priced reach-in or walk-in closet makeover still projects a stylish, elegant, and very tidy look.
Take a look and maybe you'll see a concept that based on some simple closet ideas that are right for your home.
Double reach-in closet with Chocolate Pear finish
Here is a double reach-in closet in a master bedroom. For this space, we used a melamine finish called Chocolate Pear that's one of our most popular dark finishes.
Chocolate Pear's rich, appealing look is one reason for the finish's popularity. Another reason is it tends to be available in all the various materials (like thermo and formica/arborite in addition to melamine) we use when making our cabinetry on-site at Organized Interiors' manufacturing facility.
We created a space within the closet that has useful access from both doorways. As you'll see in the next image, this closet is completely open inside and there's no dividing wall between the door openings.
The name "reach-in", of course, is derived from the fact that the closet's shallow depth typically doesn't allow you to step inside of it. With this particular closet, you could technically walk between the interior space between the closets but for all intents and purposes, it's a reach-in.
Utilizing a smart closet layout design is crucial
Two separate closet spaces with identical dimensions can deliver drastically different levels of functionality and storage space, purely because of how the layout was conceived.
Our design consultants always strive to devise creative and practical designs that enable each of our clients to get the most out of their remodelled closet.
With this closet, the absence of a dividing barrier between the closets allows for flexibility with the closet's layout.
We set up the left side of the closet with double hanging rods for short clothes. The biggest part of any closet renovation is freeing up the "real estate" by doubling up closet rods and opening up the length of the space.
The right-hand side of the closet is split. On the left is a tower of shelves for folded clothes, handbags, shoes, etc. To its right is space for hanging long clothes.
Remember that long hanging does not mean just dresses. Oversized shirts and suit jackets typically need more vertical space than other short items. And if you prefer to hang your pants long by the pant cuff, they too will need more vertical clearance than shirts and blouses.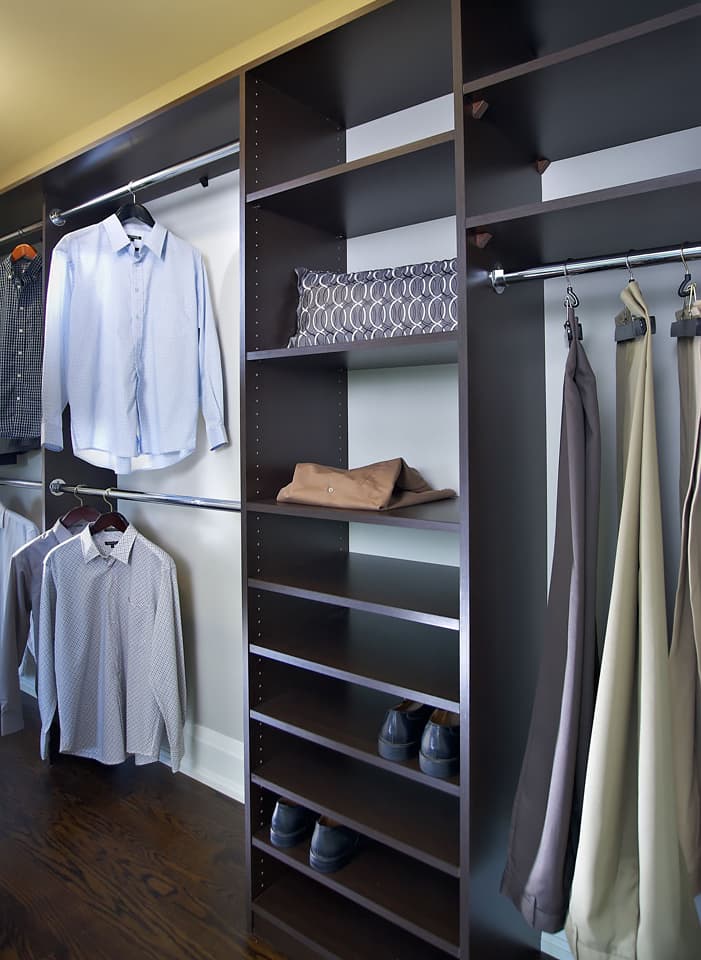 More simple reach-in closet ideas
This closet features a very common setup for a small reach-in closet design.
Trying to shoehorn drawers into a narrow closet such as this one isn't always practical. Instead, a narrow bank of shelves can still accommodate plenty, whether it's folded shirts, pants, sweaters, or even smaller items like socks in baskets on shelves.
Although it's difficult to tell from the photo, the upper shelf in this closet is recessed. The shelf tower itself is a good depth (around 16″) for storing folded adults' clothes. The top shelf is shallower at 12″. This choice was made to provide better access to the shelf, considering it's at the same height as the doorway.
Once again, we're showing a combination of double and long hanging for clothes – how that is split or not is entirely up to you.
If you don't need to hang many items in the closet (such as with a guest closet), we can simply install a single rod. Don't have anything long to hang? We can set your entire closet space up with double hanging rods.
Simple closet ideas for walk-ins
Here's an example of a straightforward walk-in closet. Clothes on the left side of the photo below combine double short hanging with long hanging on the right for a bathrobe.
A shelf tower uses the wall as the back for the shelves. The closet rods are suspended between walls and gables.
You may prefer to use some of the space on the closet's side for a full-length mirror. Perhaps you'd favour moving the placement of the shelf and drawer tower to another location in the closet's design. Whatever your space allows for, Organized Interiors is all about meeting your specific storage needs.
Luxury walk-in closets feature lots of decorative detail that certainly enhances the appearance of the closet space. These additions don't always serve a functional purpose.
Every inch counts when you're striving to boost the functionality of your closet storage. Unless you have a particular look in mind for your closet, you don't need to add extra decorative touches and features.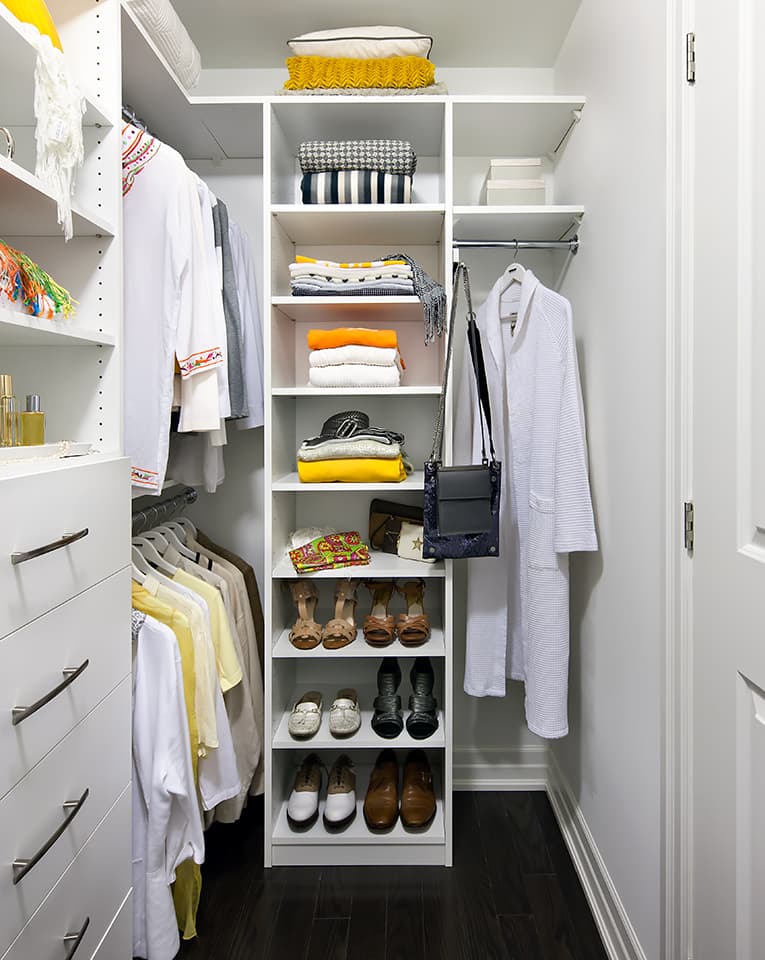 Don't forget the linen closet!
The linen closet tends to get overlooked as a home storage space worthy of an upgrade.
Yes, it's a utilitarian storage area but that doesn't mean it can't function better and look nicer. Simple closet ideas apply perfectly to a linen closet, which doesn't require quite the same level of design detail as a bedroom closet.
This catch-all space for towels, bed sheets, blankets, and other linens can easily become overwhelmed and untidy.
Adding custom cabinetry with adjustable shelving will make the space function more efficiently. You can space your shelves close together to store soaps and other bath essentials or open up the spacing for thick blankets and pillows.
Simple closet ideas for a unique closet space
"Simple" definitely doesn't need to mean inferior or low quality when it comes to your closets. The simple closet ideas and designs featured here are unique projects that, we think you'll agree, look great.
Organized Interiors specializes in closet makeover projects of all sizes that can accommodate any budget.
Whether you're searching for an affordable simple closet design that you can have installed quicker or are looking to splurge on a dream closet, we have a solution for you.
Request your free in-home design consultation to get your closet project started.
Please share this post if you found it useful.
See also: