Space can be at a premium in small homes and condos. Perhaps you find yourself craving a proper home office space, but have overnight guests on a regular enough basis to make you reluctant to change the design of your guest bedroom.
Maybe you have an existing home office space and only have guests stay over a few times a year, but their sleeping accommodations could be improved.
One of the best spare room ideas is to turn your extra room into a multipurpose home office and guest room.
Add a practical, space-saving wall bed to your spare room
A practical wall bed will be one of the key components of your new multipurpose room. Wall beds are also referred to as "Murphy beds" and their biggest benefit is how much space they'll save you. During the day, the wall bed folds up, creating plenty of floor space. When it's needed, the wall bed easily unfolds for use.
If your idea of a wall bed involves antiquated images of thin, ugly mattresses and creaky mechanisms, you'll be surprised at how far they've advanced. The modern quality wall bed is stylish and just as comfortable as any other bed.
They're also a much nicer sleeping option for your guests than makeshift arrangements that has them sleeping on a pullout sofa, futon, cot, or an air mattress on the floor.
Custom wall beds can be built as an individual unit or as part of a larger custom cabinetry unit. You can enjoy the benefits of open shelving, drawers, and built-in lighting in the beautifully crafted cabinetry unit whether the wall bed is down or up.
Depending on your needs, you can choose from a single, double, or queen-sized wall bed. The hardware on our wall beds also comes with a lifetime warranty.
Include a closet organizer for your guests' comfort
If you have guests that stay for lengthier visits than just one night, a closet organizer will help them feel more at home, especially if they've brought more than one suitcase. A closet organizer will make it easier for guests to manage their wardrobe during their stay.
And if you're not entertaining guests for awhile, you can take advantage of the closet organizer's helpful storage features for temporarily storing some of your extra wardrobe.
Spare room ideas: keep your office supplies organized and hidden
Your dual-purpose office/guest room needs to be kept organized. This makes using it on a daily basis easier and it will require minimal cleanup when houseguests require the space.
Use elegantly designed customized cabinetry for the office to keep all of your office supplies and belongings organized and out of sight.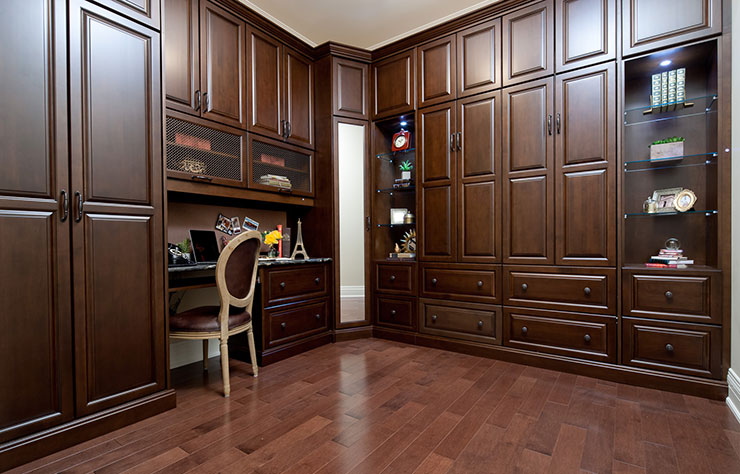 Add some final cozy touches to your multipurpose space
Along with these main design elements of your multipurpose room, add a few tasteful and cozy touches to the space. A rug, fresh plants, and artwork are well-suited to both guest rooms and home offices and add a nice touch of warmth.
Use these spare room ideas to create a multipurpose room and maximize your home's space. Your guests will definitely appreciate the comfortable surroundings you've thoughtfully provided for them!
One of our design consultants will be happy to meet with you in your home to discuss your spare room ideas, so book your free consultation today.
See also: