How long has it been since your laundry room had any sort of meaningful update to its appearance? And replacing a washer and dryer don't count!
There's a good chance it's been quite some time. But why is that? Laundry rooms are used at least once a week by nearly all families and oftentimes much more than that.
For a room that's used so frequently, the laundry room has traditionally been considerably overlooked in terms of attention to its appearance and functionality.
If it's been more than 10-15 years since your last laundry room (or mudroom) remodel, it's time to modernize it. And if your laundry room has never even been properly finished, there's even more reason to give it some much-needed attention.
Use these seven smart laundry room ideas to transform this underappreciated space in your home.
1. Custom cabinetry
Maximizing storage space in your laundry room without sacrificing aesthetic standards calls for high quality custom cabinetry. Organized Interiors specializes in finely crafted custom cabinetry that's manufactured in-house, to the exact specifications your home requires.
Keep your laundry supplies and other belongings stored out-of-sight and organized in our beautiful laundry room cabinetry systems. Open shelving storage solutions are also available for items you want even more easily accessible.
Customize your cabinetry with a wide variety of options for decorative hardware, configurations, accessories, and wood finishes.

2. Adequate counter space
Laundry tasking generally becomes a little easier with an adequate amount of counter space at your disposal. Whether it's having a surface to set down the laundry supplies you're using or for sorting and folding clothes right out of the dryer, extra counter space can come in very handy.
Our design experts can work with you to include countertops within your laundry room's custom cabinetry design.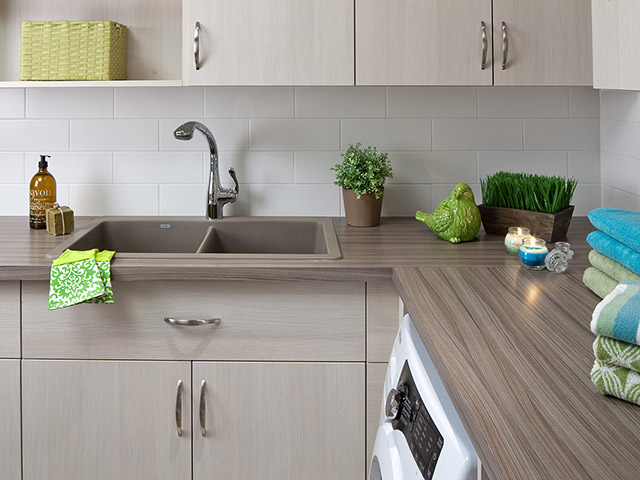 3. Convenient, space-saving pull-outs and accessories
Good laundry room ideas should make your laundry experience more efficient and helpful. You'll enjoy the practicality and space-saving benefits provided by pull-outs and other laundry room accessories.
Pull-out racks and drawers in a laundry room save space and have many uses. You can use them to make supplies easier to find. A pull-out drying rack, for example, provides an extra storage option for drying clothes, as do adjustable valet rods and hanging rods.
Pull-out ironing boards conveniently only take up laundry room space when they're needed.
4. Built-in laundry hampers
One of the smarter laundry room ideas to consider is built-in laundry hampers. These hampers are incorporated into your custom cabinetry to maximize space and keep dirty clothes organized.
Add extra hampers to make sorting easier. You can also add built-in laundry hampers to your bedroom. The removable hamper insert features handles for easily transporting your dirty clothes to the laundry room.

5. Good lighting
Improving the lighting in your laundry room doesn't cost much and can make a world of difference.
Laundry rooms commonly lack decent lighting, which can make a joyless task like doing laundry feel even more arduous. Basement laundry rooms lacking much natural light are particularly uninviting.
Change the atmosphere by adding ambient or accent lighting. Task and under-cabinet lighting in more frequently used areas of the laundry room also make work easier and improve the atmosphere.
6. Modern laundry room flooring
If you're updating your laundry room's decor, you can't ignore the flooring. Since laundry room floors are prone to moisture, ceramic tile or vinyl flooring are good options.
You may also want to consider using interlocking PVC floor tiles from Garage Living. They're easy to install, durable, and are available in a number of colour combinations to fit your room's decor.
7. A nice laundry sink
You could add an inexpensive white plastic laundry tub to your laundry room, but think a little bigger if your budget allows. A deep stainless steel sink complemented with a stylish faucet looks much nicer!
Give your laundry room's look a thorough refreshing by addressing the areas in which its lacking.
Schedule your free in-home consultation to discuss these laundry room ideas and more with one of our design experts.
See also: