As the winter approaches, you've decided it's time to choose a fireplace for your home. The heating benefits and ambiance boost a fireplace provides will surely look even more attractive as the temperature drops and the snow begins to fall.
Anyone looking to add a fireplace will ultimately find themselves having to choose between one of three options:
an electric fireplace
a traditional wood-burning fireplace (or wood stove)
a natural gas fireplace
An electric fireplace simply makes more sense
Each choice has their undeniable benefits. For example, an electric fireplace is much more cost-effective and low-maintenance.
On the other hand, today's impressive electric fireplace technology hasn't yet managed to replicate the delightful smell that only a burning log can produce. And a natural gas fireplace offers the convenience of starting a fire at the touch of a button.
Weigh the individual pros and cons of wood-burning, natural gas, and electric fireplaces, however, and the latter emerges as the clear choice. And here are the top 13 reasons why.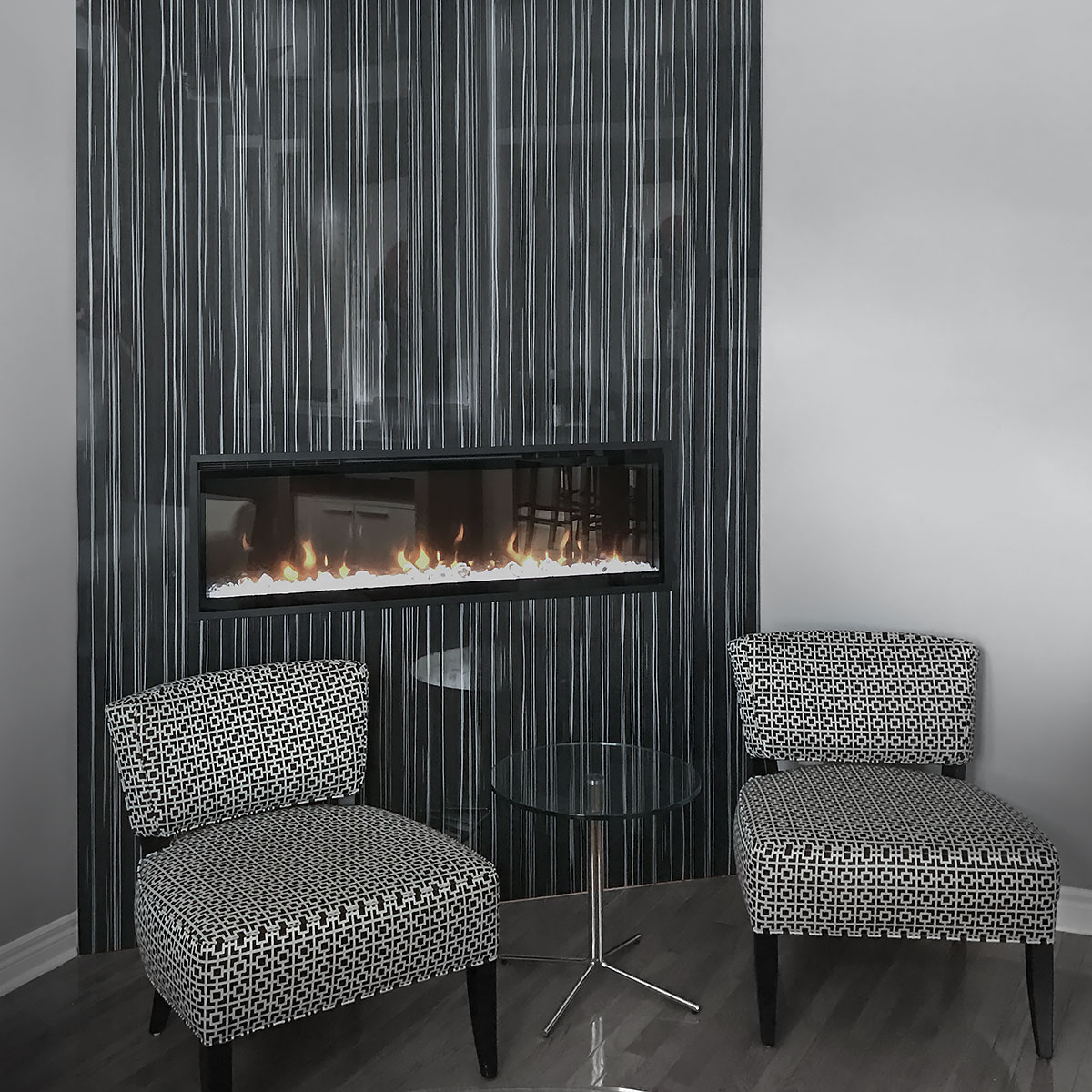 1. Electric fireplaces are more affordable
The costs of adding a wood-burning stove or fireplace to your home can quickly start piling up. There will be major wall construction and masonry work required, including the building of a chimney.
For natural gas fireplaces, venting and gas lines will need to be set up. That's a lot of expenses before we even factor in the cost of the fireplace itself.
Electric fireplaces are a more affordable way to add the comforts of a fireplace to your home. Even higher-end electric fireplace models will prove to be a more cost-effective solution than a wood-burning or natural gas fireplace setup.
There are two main types of electric fireplaces available:
2. An electric fireplace installs easily
The logistics of installing a natural gas or wood-burning fireplace can get quite complicated. Here's what can be involved:
building a chimney
having a fireplace pit and hearth built
accommodating gas lines
getting building permits
contending with messy, disruptive construction in your home
Installation of an electric fireplace, however, is significantly easier and much less restrictive. Many electric fireboxes just plug into an electrical outlet – it doesn't get much simpler than that! Other fireboxes and all linear wall-mount electric fireplaces will need to be hardwired using either 120V or 240V.
Even if you're creating a larger-scale feature wall with a linear wall-mount fireplace, the work that's required is simply no comparison to what's involved with the installation of a wood-burning or natural gas fireplace.
Rooms that traditionally haven't been able to accommodate a wood-burning fireplace (like a bedroom or home office) now can with an electric fireplace. Those in apartments and condos can also enjoy the benefits that fireplaces provide.
3. Electric fireplaces don't take up much space
Compared to a wood-burning fireplace or stove, an electric fireplace creates a far smaller footprint within your room. A hung electric fireplace only protrudes 6″ to 8″ into a room. If it's recessed into your wall, it'll also only require about that much depth space.
The ease of installation with electric fireplaces also gives you a lot more flexibility in terms of where it can be located. With wood-burning and natural gas fireplaces, their location will be tied to the limited areas available to install a chimney or wherever the gas lines can fit.
Underutilized corners in a room can become more useful with the addition of an electric firebox. And an electric firebox mounted within your entertainment unit or bookshelf also saves you space.
4. An electric fireplace is safer
The potential safety risks of having firewood burning inside your home go without saying. Owners of wood-burning fireplaces also have the hazards of smoke and ash inhalation, carbon monoxide poisoning, and chimney fires to worry about. Anything that uses natural gas also carries an inherent risk with it.
Electric fireplaces are a much safer option and give you greater control over how your fireplace operates. You'll have zero worries about the harmful gasses and fires raging out of control that can potentially occur with conventional fireplaces.
Many models come with an automatic shut-off feature for a higher degree of safety. And an electric fireplace won't pose a risk of anyone getting burnt because the front glass stays cool when it's running. That's an especially important safety feature if you have young children or pets.
5. There's plenty of customization options
Both electric fireboxes and wall-mount electric fireplaces offer a wide range of customization options to accommodate your needs and design tastes.
An electric firebox comes with a range of door and trim kits to choose from. They can also be combined with a fireplace mantel that comes in a variety of finishes. You also have the option to sit an electric firebox within an entertainment unit below your television.
A linear wall-mount electric fireplace adds an even more sophisticated fireplace look to your home. They also offer some different operating features and custom options (like the ability to embed a fireplace within a feature wall).
Here are some of the other features that most linear wall-mount fireplaces and electric fireboxes include:
remote control
on-screen LED display to view temperature settings and functions
thermostat controlled heater
inner glow logs and/or ember bed options
authentic-looking flame to create the illusion of real fire
variable colour themes
6. Electric fireplaces enhance and complement your home's décor
Because electric fireplaces and fireboxes allow for so much customization, you'll find that complementing your home's décor becomes even easier.
The design possibilities are almost limitless and you'll appreciate the freedom that comes with matching your electric fireplace to your home's architectural and design style.
An electric fireplace in any room creates a dynamic focal point that unquestionably makes the space more inviting and comfortable. And one way to take that concept to the next level is to create a fireplace feature wall.
A beautiful fireplace feature wall can be created by setting a wall-mount electric fireplace within either your drywall or stylish melamine panels. Organized Interiors has hundreds of melamine panels of varying styles, textures, and patterns to choose from.
7. An electric fireplace is a cost-effective heating solution
By using supplemental heating (also known as zone heating), you can lower your thermostat and heat specific areas of your home that you'll be occupying more frequently. That reduces your energy costs. You'll find that electric fireplaces are a great supplemental heating solution.
If the house is feeling chilly and you and the family are planning on a movie night in a living room outfitted with an electric fireplace, leave your home's thermostat where it is. After all, why heat up the whole house when everyone is gathered in one room for several hours?
Just set the fireplace's thermostat at a comfortable level and enjoy your evening. Organized Interiors carries electric fireplaces and fireboxes from industry leader Dimplex which can heat rooms up to 1,000 square feet.
Wood-burning and natural gas fireplaces lose anywhere from 50-70% of their heat, depending on various factors. An electric fireplace, however, wastes little of its energy. And with the heat on, electric fireplaces only cost around 14 to 18 cents an hour to operate.
8. (Virtually) no maintenance required
The work required to operate and maintain a wood-burning fireplace is significant. You'll need to make sure you're either buying firewood or cutting it yourself. Then you need to keep it stored in a dry area and lug it inside when it's needed.
And, of course, there's the messy cleaning up of ashes and soot, as well as the requirement of getting your chimney cleaned every few years. All of this extra expense and maintenance time should be factored into your fireplace-buying decision.
Compare all of that to the virtually no-maintenance nature of an electric fireplace. The only cleaning required is to simply wipe down the front glass occasionally, just as you would any other surface in your home.
Replacement of a fireplace light bulb may also be needed occasionally. Other than that, your electric fireplace shouldn't require any other maintenance, as they're built to be reliable and long-lasting.
9. Electric fireplaces are eco-friendly
Wood-burning fireplaces use up precious natural resources, aren't energy-efficient, and pollute the air.  Natural gas does burn cleaner, but also uses up natural resources.
Electric heating, on the other hand, only uses a small amount of electricity to operate, has zero emissions, and is highly energy-efficient. When it comes to a home fireplace, you can't get much more eco-friendly than that.
10. The flames look just like the real thing
One concern with buying an electric fireplace is that the flames they produce don't quite look like the real thing. Electric fireplace technology has come a long way in recent years and today's models now produce amazingly realistic flames.
Dimplex's patented flame technology is the best in the industry. You'll barely be able to distinguish the difference between a real flame and the flame produced by a Dimplex model. Visit our showroom to see for yourself!
11. An electric fireplace is convenient
Starting a wood fire involves a whole process that can sometimes result in a smoke-filled home. And maintaining your home temperature at a comfortable level with a wood fire is an inexact science.
Too cold? Throw on another log or two and then wait for it to warm up. And if it's too hot, you'll probably end up just opening a window to cool off until the temperature in the room lowers. It's not exactly the most convenient of heating methods.
Conversely, an electric fireplace or firebox starts up with the simple press of a button and produces a consistent room temperature via its thermostat control. The temperature is displayed on the fireplace's floating LED display.
Temperatures can even be adjusted from your couch by using the convenient multi-function remote control the electric fireplace comes with. Electric fireplaces also come with features like an automatic shut-off timer and a range of colour themes to suit your mood.
12. You can use an electric fireplace year-round
Even when it gets warmer, your electric fireplace will serve a valuable function. To enjoy the ambiance boost that a fireplace provides without the heat production, simply turn off your electric fireplace's heat function.
The flames will continue to display and you'll be able to achieve that cozy, inviting feel in your room during the late spring or summer. And with the heat off, an electric fireplace will cost you barely anything to run.
Depending on your fireplace model and hydro rates, the maximum expense you should be looking at is a mere 3 cents per hour using this setting.
13. The movability factor
If you decide to sell your home, a wood-burning or natural gas fireplace is difficult (if not impossible) to remove. And even if you can bring it with you, you'll need to once again go through the aforementioned installation headaches at your new home.
Because electric fireplaces and fireboxes are so easy to install, they're also easier to move if needed. Whether you're moving to another home or want to move the electric fireplace or firebox to another room in your home, you'll have a lot more freedom to do so.
The best home fireplace choice should be obvious
When you compare the benefits and shortcomings of the various types of home fireplaces available, the best choice should be obvious – an electric fireplace.
With the holidays coming up, there's no better time to make your home more warm and inviting with an electric fireplace.
Schedule your free in-home consultation with an Organized Interiors designer to get started.
See also: