With Father's Day soon upon us, what gift are you considering for the special man in your household?
Father's Day gifts tend to fall a little short when it comes to being imaginative. This year, why not really impress dad by turning to some inspired ideas that are less predictable than Father's Day gifts like socks ties?
Practical Father's Day gifts that dad will use every day
You can make dad truly feel special this upcoming Father's Day by giving him a practical gift he'll use every day. For some people, "practical" might seem like a code word for "dull" when it comes to a gift. These Father's Day gifts are anything but, however.
They'll help make dad's day run smoother, improve his comfort level, and will enhance the décor in your home. There's nothing dull about that! Here are five thoughtful Father's Day gifts that dad will love.
1. A custom entertainment unit
When it comes to Father's Day gifts to impress dads who love their movies and TV viewing, a custom entertainment unit makes perfect sense.
Our custom entertainment units create the ideal home for storing your flat screen TV and A/V components and cables, while also giving you the choice to add a number of features.
A liquor cabinet and bar, electric fireplace, display shelving, and drawers for accessories are just a few of the custom options available. Also choose from finishes, styles, and colours that can give dad's entertainment unit a more warm retro look or an aesthetic that's more contemporary.
Create the ultimate media centre for dad this Father's Day!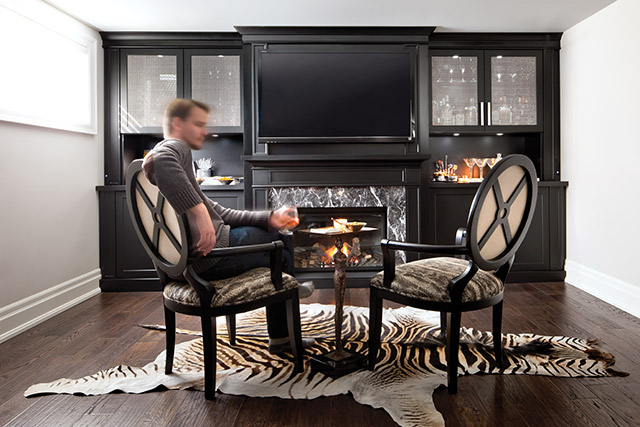 2. Custom wine cabinetry
If dad's growing wine collection is running out of storage space or stored on a series of mismatched wine racks, custom wine cabinetry is the solution.
We can design a beautifully crafted wine storage system for dad that nicely accommodates the size of his wine collection while taking into account its future growth.
Whether it's smaller wine cabinetry for a reach-in closet, a larger wine cellar, or a dedicated wine storage room that can also be used for entertaining, Organized Interiors can design the perfect wine storage solution.
3. Custom bar cabinetry
For dad's large collection of spirits and liquor, custom bar cabinetry provides a functional and stylish method for storing his bottles and accessories. Because we make all of our custom cabinetry, Organized Interiors can design bar cabinetry to custom-fit your home's exact space requirements.
From stand-alone bar cabinetry in your living room or basement to a smaller kitchen bar station, our design experts can devise some inspired ideas. There are a number of options available to customize your bar cabinetry, including:
choice of finishes and countertops
bar stool customization
space for a sink
mirrors
lighting
attractive metal mesh doors
4. A more comfortable and modern home office
Is dad's home office a cluttered mess and long overdue for a decorative makeover? We specialize in designing home office spaces that look fantastic, maximize storage space, and optimize functionality.
If dad works from home, what could be a better gift than making his main workspace much more comfortable and efficient?
Our home office designs allow for a high level of customization that lets you choose from a wide array of finishes and decorative hardware.
You can also choose to include things like a device charging area, bookcases, file drawers, and display areas in the home office's design.
5. Lower dad's stress with a custom closet organizer and closet accessories
It's been proven that clutter causes stress. One of the main reasons clutter accumulates in the bedroom is that a proper closet organization and storage system isn't being used.
Remedy that problem for dad and make his daily routine easier by using one of our efficient closet organizers. We have three closet systems available that can fit any size of closet space and budget.
Helpful closet accessories and decorative hardware also help dad get better use out of his closet space. Here are just a few of the accessories that he'll benefit from:
pullout shoe rack
retractable valet rod
Orbita watch winder with custom drawer or glass case storage
tie hook that can also hold belts
pullout pant rack
belt hook
sliding belt rack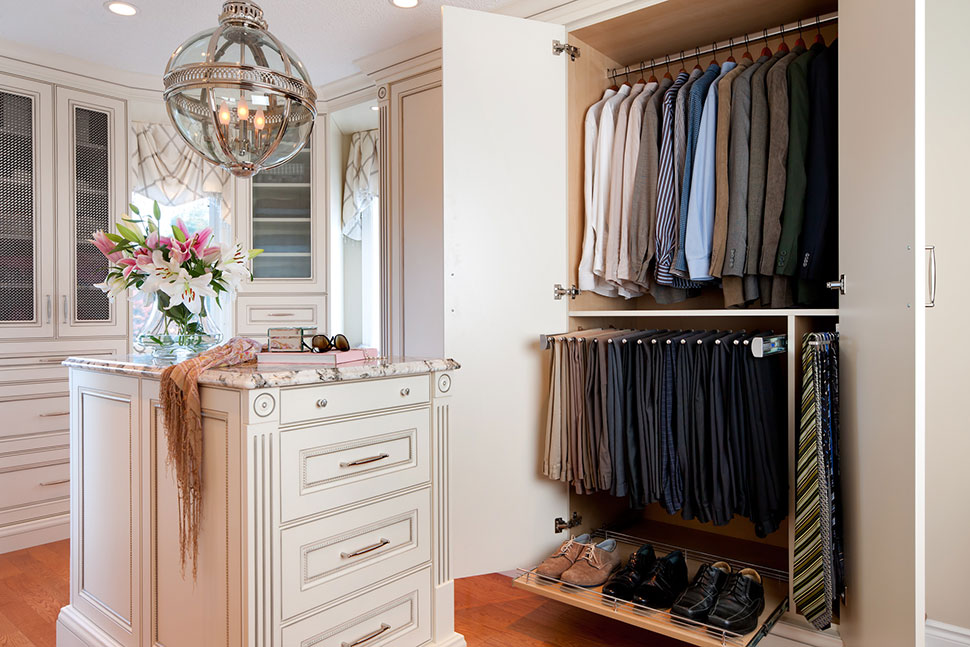 These Father's Day gifts will keep on giving for years to come
Show dad how special he is with Father's Day gifts that are practical, and stylish, and keep paying dividends for years to come.
And dad will appreciate the fact that some of these Father's Day gifts add value to your home. They're also home improvement projects that won't require him to lift a finger (although you may want to include him in the design process if he has picky tastes).
Schedule your free in-home design consultation to get the ball rolling with your sure-to-be-memorable 2017 Father's Day gift!
See also: