Collectors of high quality watches should have a watch winder and storage space, especially when their collection begins to grow.
Among the smart closet accessories Organized Interiors carries is a custom watch winder and storage solution that's perfect for any watch connoisseur.
A watch winder and storage space protects your investment
Whether your premium watch collection consists of a couple of timepieces or has grown to a number much larger, it's wise to protect your investment.
High quality watches have traditionally been passed down from one generation to the next. Having a custom watch winder and storage space that keeps them properly stored, organized, and wound will lengthen the life of your timepieces.
Organized Interiors exclusively uses high quality Orbita watch winders in our custom watch storage designs for closets and dressing rooms.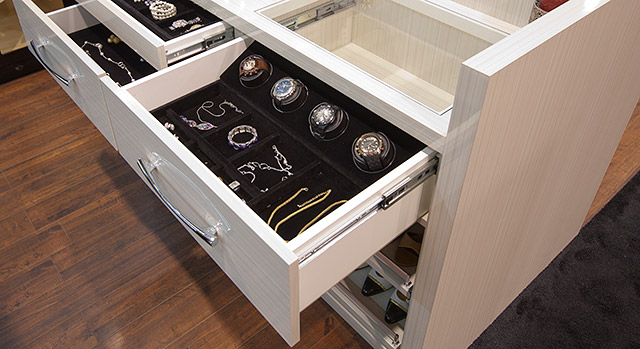 Why we exclusively use Orbita watch winders
Orbita is an American company that was started in 1996 after founder Charles Agnoff was given a Rolex as a retirement gift.
Although he loved the stylish look of the watch, he was frustrated that its otherwise brilliant design necessitated the time and date to be reset if the timepiece wasn't worn for a few days.
He applied his background in mechanical engineering to devise a winder that kept the watch wound and went on to find great success with his concept.
Organized Interiors is firmly committed to using the highest quality products in our clients' projects and Orbita watch winders certainly adhere to this philosophy.
Orbita is considered the world's leading manufacturer of watch winders and is renowned for its innovation and exceptional quality.
Why is a watch winder worth having?
If you're unfamiliar with why a watch winder might be needed, here's the reasoning. Automatic watches (also referred to as self-winding, mechanical, or some variation of all three terms) have a self-winding mechanism.
The self-winding process only occurs when the watch is worn regularly, however. That's because it's activated by detecting regular wrist movement.
If your luxury watch goes days or weeks without being worn, it stops running. The next time you wear the watch, the time and date will need to be updated.
If you have a larger watch collection, this can be inconvenient because you'll assuredly be changing your watches regularly to suit your mood or a specific wardrobe choice.
A watch winder simply keeps the watch always running, thereby keeping the time and date accurate, in addition to keeping it well-maintained.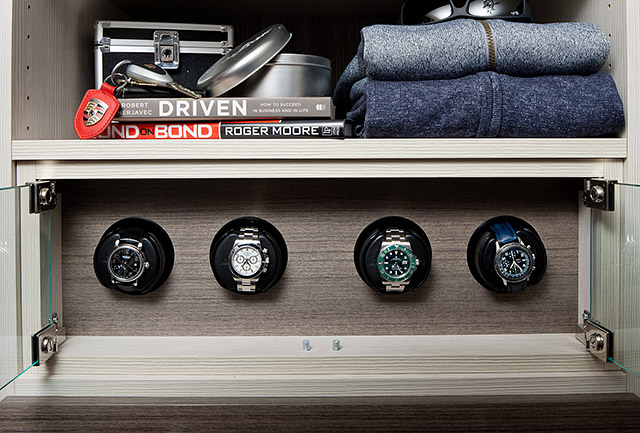 The innovative winding technology in Orbita watch winders
Orbita's unique Rotorwind technology is a great example of their innovative design approach. Unlike traditional watch winders, the Rotorwind system actually replicates the motion of the wrist, which activates the self-winding mechanism.
Using a tiny amount of lithium battery power, the winding system activates every few minutes to keep the watch running. Orbita also sells traditional rotating-style watch winders that can be programmed, depending on the individual needs of your watches.
A watch winder and storage space showcases your collection
Our custom watch winder and storage space designs will do more than just provide an area to keep your treasured timepieces stored, protected, and well-organized. We can design a closet, dressing room, or bedroom space for your watches that will enhance their natural beauty.
Your watch winder and storage space can be added to an elegant custom drawer with felt lining. For a more visible storage space, we can design a beautiful glass case that shows off your prized watch collection. Regardless of the size of your collection of fine watches, we can accommodate your needs.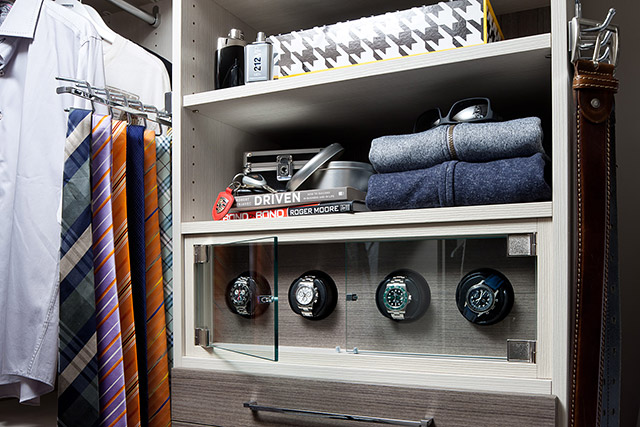 Learn more about our watch winder and storage space solutions
You can learn more about our elegant watch winder and storage space solutions and other helpful closet accessories by visiting our 10,000 square foot showroom.
With Mother's Day and Father's Day just around the corner, why not consider this stylish and functional gift idea for the watch connoisseur in your life?
Schedule your free in-home design consultation today and you'll be able to make that happen.
See also: