Millions of Canadians work from home, whether they're self-employed or telecommuters (those who have an arrangement with their employer to work from home).
There are definitely advantages to this type of work setup. For example, there's the time saved by eliminating commuting, not having to deal with workplace politics, and the freedom to work while wearing your pajamas, to name just a few.
Another advantage is being able to determine the look and layout of the work area where you earn your living.
Which home office ideas are worth considering?
There are many home office ideas worth considering when designing your office space. Choosing the right ones will make your workspace stylish and also enable you to be productive.
Let's look at the seven key questions you should be asking when creating a home office, along with the best home office ideas to choose.
Having a vision in mind for what you want your home office space to be will be a great help to the Organized Interiors design consultant who'll be helping to bring your home office vision to life.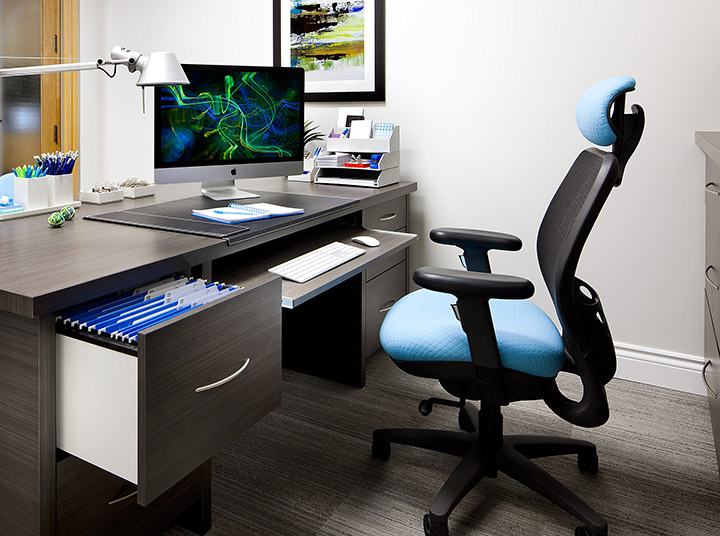 1.
What will my home office space be used for?
There are many reasons for creating a home office space and knowing exactly what your home office will be used for is an important first question to ask yourself. Identifying the main purpose for your office and how it will be utilized will establish the foundation for its design.
Perhaps it's for one of these reasons:
for running your full-time business
as a designated space in the home for paying bills and doing taxes
for telecommuting
as a space for your kids and/or partner to occasionally surf online or do homework
for creating a private area that lets you focus on your hobby, such as creative writing
as a space for both your business and for the family to use during your non-working hours (we can create a multi-function home office with separate work stations)
2. Where should I put my home office?
A spare room is obviously the most ideal spot to set up a home office. It allows for more space, which gives your home office designer much more flexibility to include all of the home office design elements you desire. Extra room will also be more important if your business requires having visits from clients.
If you'll be spending lots of hours working in your home office, extra space is also ideal. Spending 40+ hours per week working in a confined space with little or no sunlight likely won't help you maintain a strong level of work productivity.
A spare room should also provide your workspace with natural light, which is beneficial.
One other crucial consideration related to home office location is privacy. Choosing a location that removes you as much as possible from potential distractions will help facilitate a stronger, more consistent workflow.
If you're having clients over then having a quiet, private home office location is also more important.
3. What if I don't have much space to add a home office?
Of course, space considerations may limit your options for where you can add a home office. That doesn't have to be an obstacle when it comes to using many of these home office ideas, however.
Organized Interiors can create a home office space in just about any area of your home, like the bedroom, family room, or basement.
We can also create a multi-purpose space that combines a home office with a guest room that saves space with a custom wall bed.
Keep this in mind for tax purposes: to write off the room your home office is located in as a business expense, more than 50% of its use should be for work.
4. What type of work equipment will I be using?
Be clear with your home office designer on what type of work equipment the home office will need to accommodate.
Your main work tool will almost certainly be a desktop computer, which creates the opportunity for a number of design options.
Do you want your computer keyboard always sitting on the desk or would you prefer it out-of-the-way and on a pullout tray? Maybe you'd prefer to have an increasingly popular standing computer workstation designed for you.
Your office will also need to have space for supplies and other types of electronic equipment, such as phones, printers, charging stations, scanners, modems, photocopiers, desktop speakers, and external hard drive backup storage.
You'll want your office design to make efficient use of space for these, have enough outlets, and to keep their wires and cords hidden. The more frequently used items also need to be set up in a convenient, easy-to-access spot for you.
5. What will I be storing in my home office?
All businesses increasingly rely on digital invoices, receipts, and word processor files. You may still generate a sizable amount of actual paperwork in your day-to-day work, however, or have lots of older physical files and records that you need to retain.
Our experts can design efficient home office storage systems that will fit the needs of your business and space.
Our custom free-standing and built-in cabinetry (including book cases and file storage drawers) and office desks are designed to accommodate anything that needs to be stored in your home office.
Because we design and manufacture our own products, we can also customize your storage system to maximize storage space.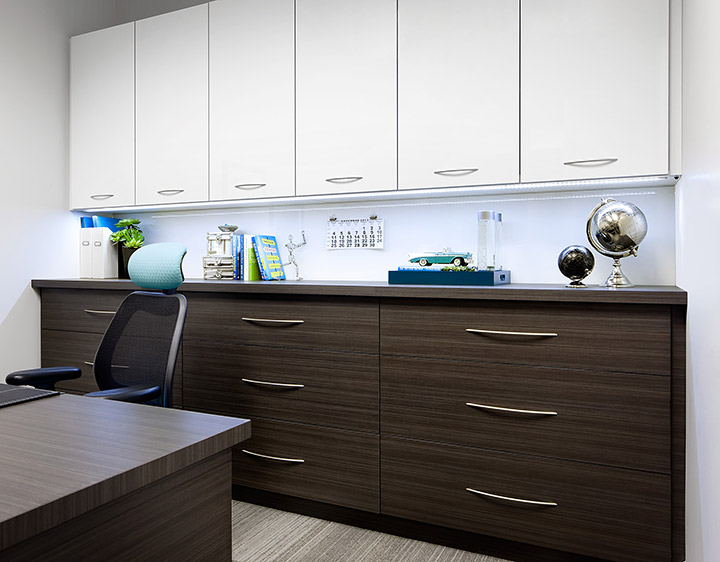 6. What type of decor do I want my home office to have?
Adding an office to your home means you will have a number of decisions to make regarding its decor. This includes choosing how the following elements of your home office will look:
wall and ceiling colour
colours and finishes for your custom cabinetry and desk
decorative hardware (pulls, knobs, and handles) for your custom cabinetry and desk
general lighting and task lighting
flooring (carpeting, rugs, or hardwood/laminate)
Ask an Organized Interiors design consultant about the wealth of colour, finish, and decorative hardware options we have available for our custom home office solutions.
Additionally, if you're having a home office space designed to be part of another room (like a bedroom or guest room), we can design it to complement the existing decor of that room.
7. How can I make my home office a comfortable, yet productive space?
Your office is meant for business, but what home office ideas will make it comfortable, as well as a space that lets you be productive?
We'll ensure your office desk and surroundings are designed so you'll have all the space you need, without clutter accumulating. Considering how much time you'll be spending in it, you should also invest in a comfortable, ergonomically correct chair.
Add some small personal touches to the room, such as family photos, artwork, knickknacks, and some plants. Be mindful of keeping potentially distracting items (like a TV) out of your home office.
Learn more about how these and more home office ideas
A home office should be more than a cold, dull workspace – it can also be a stylish and attractive part of your home. We can use these home office ideas to create such a space.
Schedule your free in-home consultation today with one of our design experts.
See also: