Amazingly, there are apparently people out there who actually enjoy doing laundry.
They say doing the laundry gives them the deep satisfaction of revitalizing their family's dirty and unwearable garments into fresh, neatly pressed pieces of clothing that play an essential role in the daily lives of each family member.
These laundry lovers also enjoy the repetitive, methodical nature their laundry work requires and find it to be a relaxing routine that allows for quality thinking time.
If any of this seems like a completely foreign concept to you, we suspect you're in the vast majority of people who wish their laundry chores could be a lot less tedious and time-consuming.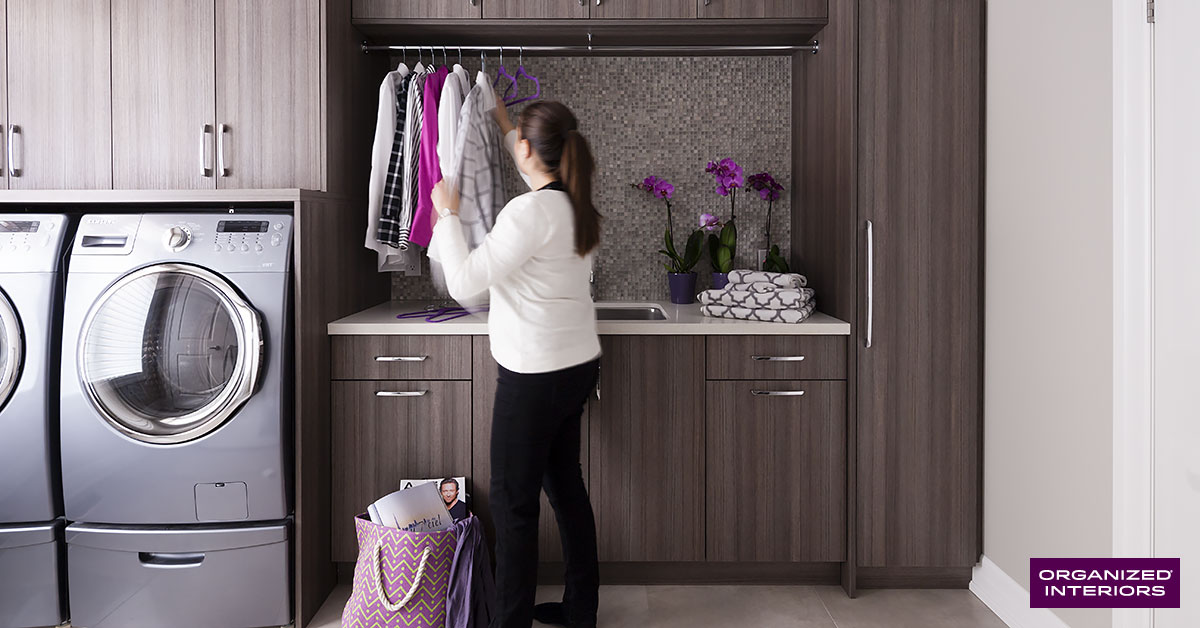 Practical laundry room organization ideas and tips
While you may not share a similar level of enthusiasm for doing this unavoidable part of your housework, it's a good bet these laundry lovers have paid considerable attention to how well their laundry room organization functions.
When your laundry room is set up to be a more functional space when it comes to organization and storage, laundry duty becomes a more streamlined and efficient process.
That can make it a task that you may not necessarily come to love, but one that you can enjoy just a little more.
After all, we spend a lot of time in the laundry room. The average American family does about 8 loads of laundry per week. That adds up to hundreds of hours each family spends in the laundry room over the course of a year.
Get one of your home's hardest working spaces working that much harder for you by using these 7 laundry room organization ideas and tips.
1. Modern laundry room storage cabinets
If your laundry room is using outdated cabinetry, modernizing the space with custom cabinets is a great way to make your laundry room organization function at a higher level.
A family of four or five can require a large number of laundry supplies, such as detergent containers and pods, fabric softener, bleach, dryer sheets, and stain removers.
That's a lot of items to store and keep organized. Create just the amount of storage space you need for everything with cabinets custom-built to the depth and width you require.
If space allows, the laundry room is also ideal for adding storage space for things in your home other than laundry supplies, such as linens or out-of-season clothing.
Add shelving and storage cubbies for extra storage space for items like laundry baskets and decorative jars to hold your clothes pins and detergents, which adds a little character to the room.
2. Cabinets with pullouts
New storage cabinets are a worthwhile addition to any laundry room. Add some pullouts to those custom cabinets, however, and your laundry room organization gets even easier to manage.
Take the laundry room closet pictured below. The bottom pullout shelves make it much easier to locate and access stored items, whether it's paper towels, toilet paper, laundry supplies, or the home's cleaning supplies.
Drawer pullouts can also be added to your cabinetry to give you extra drying racks or a space-saving ironing board. Pullout folding counters and pullout valet rods are another laundry room organization option.
In addition to the functional benefits of cabinets that are custom-made to fit your space and needs, there are also aesthetic benefits.
With beautiful high-end finishes and decorative touches like stylish contemporary hardware, new cabinetry with extra functionality using pullouts can provide the sorely needed modern touch your laundry room has been lacking for too long.
3. Hidden laundry room storage
Another of our laundry room organization ideas with an eye toward maximizing your storage space is to utilize more of your room's hidden storage space.
A lot of homes have underutilized storage space underneath the bathroom, kitchen, and laundry room sinks. Add an under sink organizer to put that small space to better use. Considering its low location and the space's typically poor visibility, use a more convenient pullout under sink organizer.
If your washer and dry are installed on pedestals, take advantage of the drawer storage space they offer.
Another way to add some hidden storage space to a room, while also getting multi-purpose functionality, is with a bench that has underseat storage. Waiting for a washer or dryer cycle to finish is part of the laundry ritual, so why not do it on a comfortable bench that can also store a few things?
All of this hidden laundry room storage, in addition to storing things out of sight behind your cabinetry doors, helps to create a space with less visual clutter.
Studies show that people working in a room with little to no clutter tend to be more productive. That includes the laundry room.
4. Ample hanging space
Having enough hanging space in your laundry room is a key part of keeping it organized.
If you have ample hanging space, you won't need to clog up your countertops with items of clothing that need to be ironed or folded.
Here are a few laundry room organization ideas for hanging your clothes:
pullout valet rod
wall-mounted or freestanding hanging rack
pullout hanging rack
mini clothesline
hanging rod
Being able to take items fresh out of the dryer and hanging them in your laundry room's designated hanging spaces minimizes wrinkling and extra ironing work.
For more delicate clothing that needs to be air-dried, any of these hanging laundry room organization accessories and solutions are also ideal.
5. A folding station
Laundry rooms that aren't designed to handle all of your laundry duties only add to the amount of time the task takes.
For example, say your laundry room doesn't have a folding station or enough counter space to sort and fold your finished laundry.
That means you'll need to move everything to another room and deal with it there. In the meantime, things will get wrinkled and the whole process just takes longer than it should.
A folding station should be part of any laundry room design that aspires to be as functional and as organized as possible for its users.
A workable folding station simply requires having a comfortable amount of flat space to handle your folding duties.
That can come in the form of your laundry room countertops, an island countertop, or pullout counter space.
If you have a small laundry room, the tops of your washer and dryer can also be used as a folding station if they're at comfortable enough height.
6. Laundry hampers
It's highly practical to have laundry hampers built right into your laundry room's cabinetry.
Having multiple laundry hampers located right where you do your laundry allows you and the rest of your family to keep dirty clothes sorted by colour.
Laundry hampers with removable, carryable bags could also be added to your home's bedroom closets to keep dirty laundry more organized. You also won't need to deal with unpleasant odours from dirty clothing.
Get the dirty clothes sorted at the source where they're coming from and you'll spend less time sorting (or picking them up off the floor) when laundry day comes.
7. A laundry room island
Combine a couple of these laundry room organization ideas by creating a multi-purpose work surface that also provides room for storage – a laundry room island.
For larger laundry rooms, the addition of an island makes a lot of sense. The open space in the middle of a larger room can be put to good use with an island. It may very well become the anchor of your laundry room's design, where you find yourself spending the majority of your time when tackling your laundry duties.
A laundry room island with a sturdy, yet stylish countertop can be used as your main folding and sorting area.
Some of those aforementioned handy pullout features in your custom cabinetry (like an ironing board and laundry hampers) could be incorporated into a laundry room island.
An ironing board, in particular, is ideal for a laundry room island and the counter space it provides for handling your freshly laundered garments.
Smart laundry room organization solutions
Like washing the dishes or cooking, laundry duties are something that never lets up. Laundry day doesn't have to be something that makes you regularly shudder, however.
Adding some modern laundry room organization amenities and upgrades can save you time and make your workspace a little more pleasant to spend time in.
Find out how Organized Interiors' smart and stylish laundry room designs can benefit your home and family. Book a free in-home design consultation with us today.
Please share this post if you found it useful.
See also: