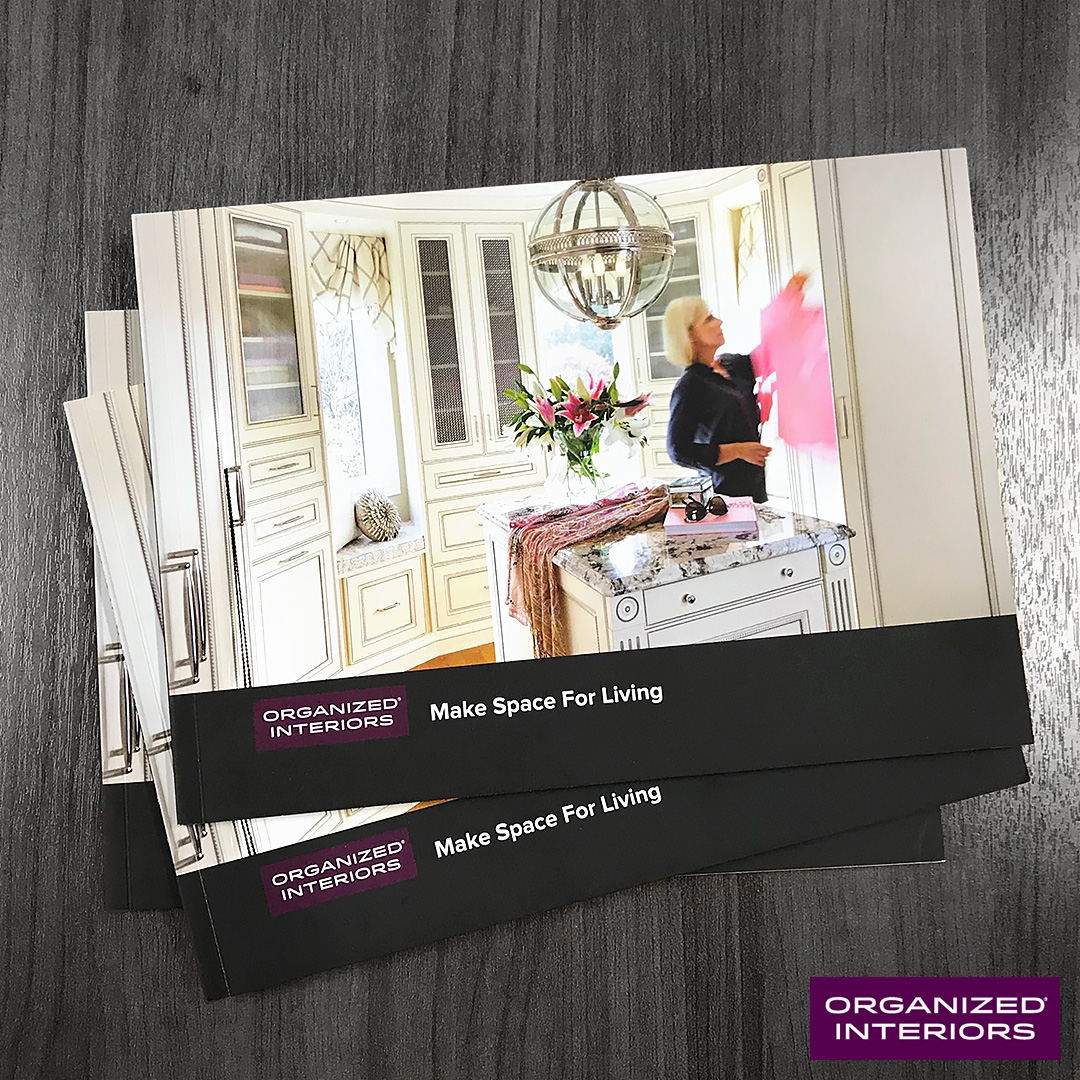 Organized Interiors is pleased to announce the launch of our brand new Idea Book, which is loaded with inspirational organization and storage ideas for your home.
The new Organized Interiors Idea Book features all of the great products and services we offer. You'll find lots of new vivid images, including many photos featuring projects in our customers' homes.
The Idea Book includes informative descriptions that list the benefits, features, and options for each of our products. This helps you get a better sense of what each product offers so you can make a more informed buying decision.
Make space for living with our new Idea Book
And there's a lot more to love with the new Idea Book! Our last edition was 48 pages, while the just-released Idea Book has expanded to 72 packed pages of inspiring content.
This growth reflects the evolution of our product line and how Organized Interiors continuously strives to make our high quality products even better, while offering our customers more choices. Examples include our new MONOGRAM custom cabinetry and new products like a pullout folding shelf and the SlimStep ladder.
We take great pride in this forward-thinking approach and believe it's one of the reasons Organized Interiors continues to be a respected leader in our industry.
Your brand new Idea Book shows everything Organized Interiors carries to help you make space for living. Here are the different product and service categories you'll find inside.
Closet organizers, custom closet cabinetry, and dressing rooms
After more than 40 years of of transforming our clients' closet spaces, the dedicated professionals at Organized Interiors have turned closet organization into an art. Our closet designs look great and, naturally, will maximize your storage space and help you to keep your closets organized.
Our closet organization products include:
SMART|LINE – a modular off-the-floor closet organizer that easily adapts to your changing storage needs
CLASSIC – a floor-support closet organizer with a wider range of depths to maximize storage space
MONOGRAM – our new collection of custom cabinetry for dressing rooms/walk-in closets that allows for ample design flexibility to reflect your personal style
create-a-closet® – add extra closet space anywhere you need with this innovative storage concept
Closet doors – choose from our many styles of sliding, bifold, solid panel and mirror closet doors

Bedroom storage
In addition to our custom closet solutions, Organized Interiors specializes in custom-built products for the entire bedroom:
Wardrobes – a custom-fit wardrobe adds a stylish appeal to your bedroom and effectively complements your closets with additional storage space
Bed surrounds – this integrated furniture piece uses under-bed storage, nightstands, and additional space for storage to keep any bedroom neat and tidy
Murphy beds – our custom Murphy beds (also known as wall beds) are a practical space-saving bedding solution that are ideal for small condos and guest rooms
Feature walls and electric fireplaces
It's easier and cheaper to add an electric fireplace or electric firebox to your home than it is to add a wood-burning fireplace.
Electric fireplaces also require virtually no maintenance, function as a cost-effective supplemental heating solution, and feature incredibly realistic-looking flames.
The new Organized Interiors Idea Book also shows you how incorporating an electric fireplace into a feature wall can create an incredible home showpiece.
Custom cabinetry for the entire home
Organized Interiors' custom cabinetry solutions for your entire home include:
Home offices and study spaces – we can design a home office or study space that looks fantastic, is precisely tailored to accommodate your work needs, and improves your workspace functionality
Bathrooms – our custom vanity, makeup table, and master ensuite designs for your bathroom allow you to create a personal, private space with many storage options
Laundry rooms and mudrooms – upgrade your laundry room or mudroom's looks and functionality with custom cabinetry that enables better storage management
Kitchens – our custom kitchen cabinetry solutions include coffee stations, kitchen sideboards, and hutches
Hobby rooms – make space for your creativity by having a special room designed to indulge in your hobbies
Wine cellars – our stylish custom wine cabinetry allows you to store your wine collection properly
Wet bars – a minibar or full-size bar can be built to your exact specifications and custom-fits to your home's space
Entertainment units – create a dynamic-looking and highly functional home media centre that enhances your viewing experience

Decorative hardware and closet accessories
You can personalize your custom cabinetry with our huge selection of hundreds of types of decorative hardware (or "Artware", as we like to call it).
You'll also find lots of photos in the Idea Book showcasing Organized Interiors' wide variety of closet accessories including:
Jewellery drawers and drawer safes
Shoe pullouts
Valet rods
Pullout ironing boards
Pullout belt racks and tie racks
Showroom
Browse through our inspiring 10,000 square foot showroom, which features beautiful displays showcasing all of our products. Getting a hands-on experience with our home organization and storage products will really give you a sense for:
The creativity of our talented design consultants
The expert craftsmanship that goes into Organized Interiors' custom cabinetry, which is manufactured on-site
The high quality of materials we use to assure our products have a long life
Our products' smooth, easy-to-use functionality (like our soft-close drawers and doors)
How we work
The Idea Book explains our full-service process for each of our customers' projects:
During the free in-home consultation, our designers and the client develop a personalized plan for the project
Our design consultants bring the project to life by designing to the exact organizational needs of the client
The project's products are custom-manufactured on-site at Organized Interiors
Your project is installed by our professional installers
All of Organized Interiors' products come with a 10-year warranty that covers defects in material and hardware, along with a one-year no-hassle installation warranty.
Download or pick up your free Idea Book
Your free Organized Interiors Idea Book can be downloaded here.
If you'd prefer a hard copy, visit our showroom to pick up your complimentary copy of the new Idea Book, which features upgraded binding and a new soft-touch cover.
See also: