In the hustle and bustle of a busy lifestyle, we easily forget that a life worth living is a life worth organizing. One important part of your home's organization includes having enough space for storing your clothes.
Perhaps you have very little space for clothes storage and getting dressed. Or perhaps a spare room in your home is just waiting to be transformed into your own personal space, where dressing becomes no ordinary ritual.
To dress in clean, crisp clothes that can easily breathe in an airy and well-designed dressing room, well that is an experience we are all worthy of.
Pamper yourself in your private home sanctuary
When Gloria Dilecce decided to convert her spare room into a dressing room, she wanted more than a walk-in closet for her clothes and shoes. 
She wanted a dream dressing room, her very own sanctuary where she could pamper herself while dressing daily for work and for special occasions.
"Ever since I was a little girl, the idea of a dressing room was an ongoing dream of mine," says Gloria. "Once I decided to convert the spare bedroom into a dressing room, it made all the difference in my life."
"At the time, my smaller walk-in closet just wasn't providing enough space for my husband Joe and I."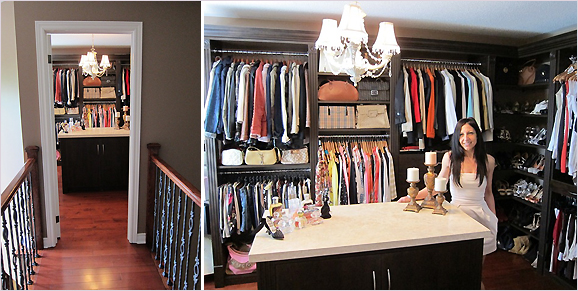 A dressing room makes better use of your spare room's valuable space
You can take charge of the manner in which you dress by turning a spare room into a dressing room (also known as a large walk-in closet).
Dressing and grooming with ease in the right environment can make all the difference between how the rest world views you.
Imagine how exhilarating it would be to have all of your clothes and valuables in one place, where dressing is a pleasurable experience rather than a chore.
A dressing room can be designed to be an elegant and soothing space where life slows down just enough for you to unwind. It can be a place with plenty of space and light, creating the ideal, calming environment for choosing the perfect outfit.
The limitations of a small closet and preparation space
How many times has a lack of storage and preparation space lead to the realization (long after you've left the house) that you've committed a fashion faux pas?
This might include noticing that the blouse you thought was white is actually a creamier shade. Perhaps it's mistakenly pairing navy blue socks with your black pants.
Then, of course, there's the added hassle of touching up pants, jackets, and shirts before you wear them because they lack the desired crispness, due to being crowded into a small storage space.
Your dream dressing room can become reality
A spare room in your home represents an underutilized and valuable space, full of untapped potential. In the hands of a skilled design professional, your dream dressing room can be carefully molded into reality.
Imagine sitting on a bench comfortably while you are putting your socks, stockings, and shoes on. The space can include a full-length mirror with proper reflective lighting, either from natural light from a window or by installing brighter light fixtures.
Now imagine pullout shelves lined with shoes where you can mix and match your clothes quickly and efficiently, without having to trek all over your home searching for something.
Adding a personal touch to your sanctuary with inspiring pictures and words of inspiration and motivation can also help you get your day started on a positive note.
It's like a fashion boutique in your own home
Gloria says that having a dressing room "feels like I have my own boutique right in my home."
Whether you are in the fashion industry like Gloria, or you just want to be able to see everything at a glance, these convenient features add to the comfort of dressing.
Soon after first using her dressing room, Gloria came to realize that it made getting dressed so much easier and more enjoyable. It became a routine that she truly appreciates.
"I never thought of turning my spare bedroom into this amazing dressing room until Organized Interiors suggested it. What else would I do with three extra bedrooms without children at home?"
"Why not pamper myself? It was well worth the time and expense. My clothes appreciate it just as much," says Gloria.
No detail is too small when it comes to your custom dressing room
Organized Interiors leaves no stone unturned and no detail is too small.
Do you require a locked document drawer? Done. How about compartments for jewelry so nothing is tangled and messy? Done. How about using clever closet accessories to accommodate scarves, ties, and belts? Easily done.
Gloria adds, "I particularly love my foldout ironing board and valet rod so I can hang what I picked out for the next day, making coordinating my look a lot faster."
A dressing room can be as stylish or as simple as you like with unique features that can make this space the envy of all your friends and family.
A combination of features like shelving, pullout shoe racks, and hanging bars for your finest garments of all sizes are options that are sure to enhance your dressing experience.
"All my clothes and shoes are so visible. It's the complete solution to all my morning problems," says Gloria.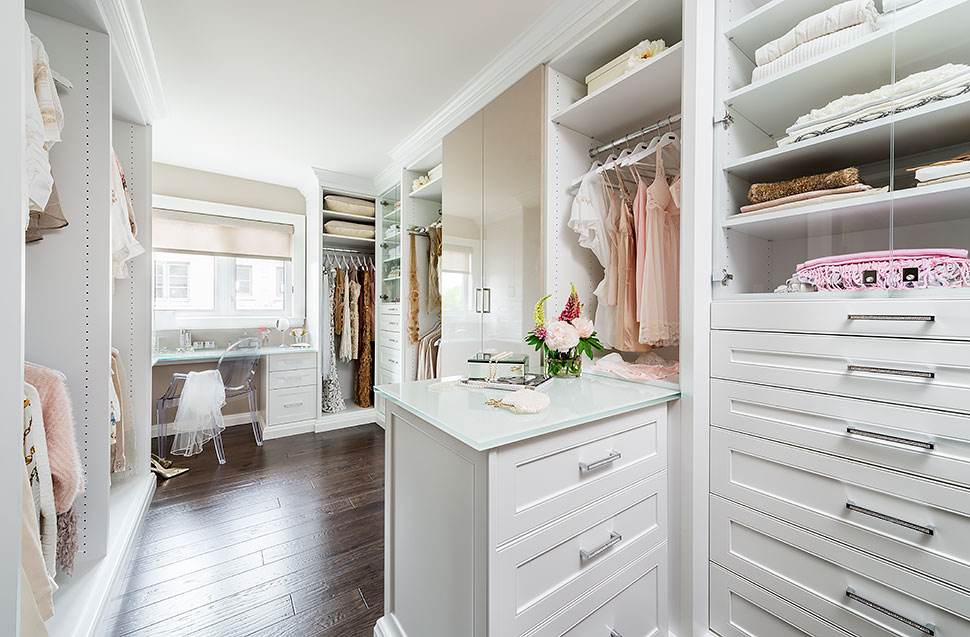 Every dressing room is unique and reflects your personality
The benefits of having a special place for dressing, which helps us look our best, is being increasingly recognized by homeowners and home improvement professionals.
A dressing room is synonymous with luxury, elegance, and comfort. Organized Interiors' innovative and creative ideas and workmanship, coupled with every individual's distinct style, makes every dream closet design unique.
"The experience with Organized Interiors was phenomenal from start to finish. It has made staying organized a lot easier and a dream come true," says Gloria.
"This is now my sanctuary, which brings me more joy and value then soaking in my tub. This made all the sense in the world for Joe and I. He loves his walk-in closet, which he now has all to himself."
Your dressing room sanctuary awaits!
Does turning your empty spare room into an elegant dressing room that allows for more storage room and a cozy, private area for getting dressed sound like a no-brainer?
Discover the same joy that Gloria found with her dressing room by scheduling a free in-home design consultation with us today!
See also: