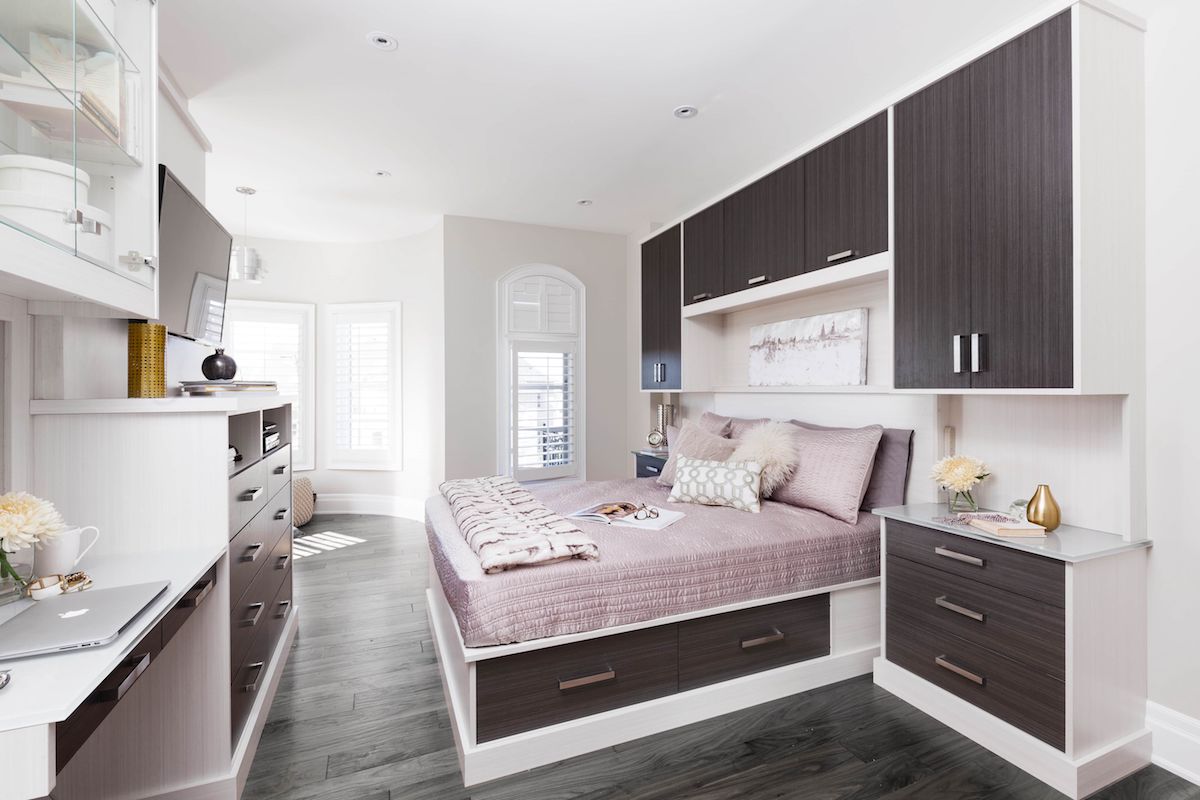 What if you could instantly gain more valuable storage space in your bedroom that was easily accessible?
And what if the solution to finding more bedroom storage space lay directly below the spot where you lie down every night?
The solution we're talking about is a storage bed – the bedroom storage solution that is hiding in plain sight.
A bed with storage goes beyond being just a useful dual-purpose piece of furniture that provides a comfortable space to sleep and additional room to store items. It becomes a triple-purpose asset in the bedroom. That's because modern storage bed designs update a room's look with stylish décor.
Why the storage bed concept makes so much sense
A bed is the single largest object in most bedrooms. Therefore, taking advantage of the space it occupies for an extra task is very practical.
Queen-sized mattresses are the most popular size for a bed and take up about 32 square feet.
You won't gain a full 32 square feet of extra storage space with a queen-sized storage bed, mind you. Some of that square footage will be lost when you factor in the space taken up by the bed's design (including the bed and drawer frames). Regardless, that still leaves a lot of handy storage space you can make use of.
Not only can more bedroom storage space lighten the load of your closet, you'll also have more room to stash those assorted items that end up on dressers, side tables, or the floor.
By incorporating surrounding built-in cabinetry pieces into the bed's design (such as bedside tables or wardrobe closets), your bedroom's storage capabilities can expand even further.
Let's dig a little deeper into why a storage bed makes a great addition to any bedroom.
How comfortable is a storage bed?
The idea of having drawers underneath your sleeping surface may have you asking one question: how comfortable is a storage bed?
Instead of a box spring, storage beds (which are also known as platform beds and captains beds) have a support system made from slats or solid panels. The mattress sits on this support system and the drawers are located below the supports.
The biggest factor that determines the comfort level of a bed is the mattress. As long as you have a supportive mattress that feels comfortable, you'll still get a satisfying sleeping experience on a storage bed.
What's the best way to use the bed drawer storage space?
A bed with storage is ideal for storing a wide variety of items. If your closet is bursting, you can get some relief by moving some of your less frequently worn things to the bed drawers. You might even be able to get rid of a dresser altogether by moving everything to your underbed storage space.
Items like comforters, extra pillows, pillowcases, and other linens are perfect for storing beneath a bed. Out-of-season clothing can also be kept in the drawers to ease the burden on your closets. Shoes and toys are also ideal for underbed storage.
Not everything going into a bed drawer has to fit into the "not often used" category. Your everyday clothes can be stored there. If you don't have or want a night table, the drawers can hold items you'd like to be easily accessible, such as books, magazines, or a tablet.
Update your bedroom's décor
Most people use their bed frames for many years. Mattresses will usually get replaced several times before a new bed is purchased.
Old bed frames might clash with any decorative upgrades you've done over the years simply by looking, well, old.
Because the bed is the focal point in a bedroom, updating its look with a more contemporary design can give a room a welcome décor refresh.
There are different design approaches you can take. One is to have your bed designed to complement your existing décor. Another approach is to go with a bolder design that makes the bed stand out as an accent furniture piece.
One reason to have a custom cabinetry specialist like Organized Interiors handle your storage bed's design is that you'll have many options to choose the finishes, trims, and types of decorative hardware you want.
Add more storage and functionality around your bed
Your bedroom furniture can have even more of an impact on the room's look by building surrounding cabinetry around the bed.
Side tables, wardrobe closets, overhead cabinets, open shelving above the headboard, and a desk can all be incorporated into a custom bed's design. Overhead reading lights or LED accent lighting can be included as well.
These additional furniture pieces add even more storage and functionality to the room. And because everything is being designed and manufactured at once, each piece of built-in furniture integrates seamlessly with one another and has a clean, consistent look.
Free up more bedroom space for other things
Here's another reason that built-in bed storage is so practical – it allows you to save space in the bedroom for other things.
Using the space under a bed more efficiently can eliminate the need for a dresser, wardrobe, or storage bins as a supplemental storage space for your closet. That makes it perfect for small bedrooms or bedrooms where you want to have space for a:
desk
makeup table
reading chair
electric fireplace
exercising space
Keep your bedroom cleaner
We've established that a bed with built-in storage helps you get more storage space in a bedroom.
That's important because having too much clutter in a bedroom can negatively impact your sleep quality. Studies have shown that excess clutter in a space slows down our ability to focus.
Cluttered office spaces contribute to less productivity. Messy bedrooms have a similar effect on our brains. Both consciously and subconsciously, too much clutter registers in our brain as something that will eventually need to be dealt with. That can make it harder to get a good night's sleep.
Another benefit of not having a large open space below your bed is that it leaves less space for dust to collect. How often does the area under most beds get a thorough cleaning? Not often enough, we'd guess.
Replacing that open space with drawers will keep your belongings cleaner, give you less floor space to vacuum, and eliminate those nasty dust bunnies that lower the air quality in your bedroom.
The benefits of bed storage drawers
The open space underneath beds is commonly filled up with rollout underbed storage containers made with plastic or fabric. Bed storage boxes and baskets are also often used, as are vacuum-sealed clothing storage bags.
Proper bed storage drawers are a much better option than these cheap underbed storage products (and certainly better than stashing loose items that don't have a home below the bed).
If you're planning to buy a bed with storage, make sure that the drawers are mounted on tracks. Cheaper beds advertise that they have drawers, but they may be "loose" drawers that only roll on the floor. Talk about a bait and switch!
Storage bed drawers typically open on either side or at the foot of the bed (or a combination of both). Another reason to buy a made-to-order bed is that it can be customized to fit your space and needs.
For example, if you wanted to have the bed up against a wall, it can be designed to have extra deep drawers that open on only one side. Other drawer dimensions like the width and height can also be customized.
A storage bed will transform your bedroom
A bed with storage underneath gives you everything you could want from a furniture piece: convenient functionality, visual appeal, and comfort.
Hopefully, the storage bed ideas presented here have shown you that storage beds aren't just for kids. Anyone can always use more storage space in the bedroom, regardless of their age.
Here's a testimonial left on HomeStars by one of our satisfied customers who ordered custom bedroom cabinetry:

Just as this client did, transform your bedroom with our storage bed designs that are customized to suit all of your needs.
And don't worry about the hassle of assembling and installing your bed. Organized Interiors takes care of your entire project, from the initial design consultation right through to the installation.
Schedule your free design consultation and we'll contact you shortly to begin crafting a plan to help you get more out of your bedroom space.
Please share this post if you found it useful.
See also: