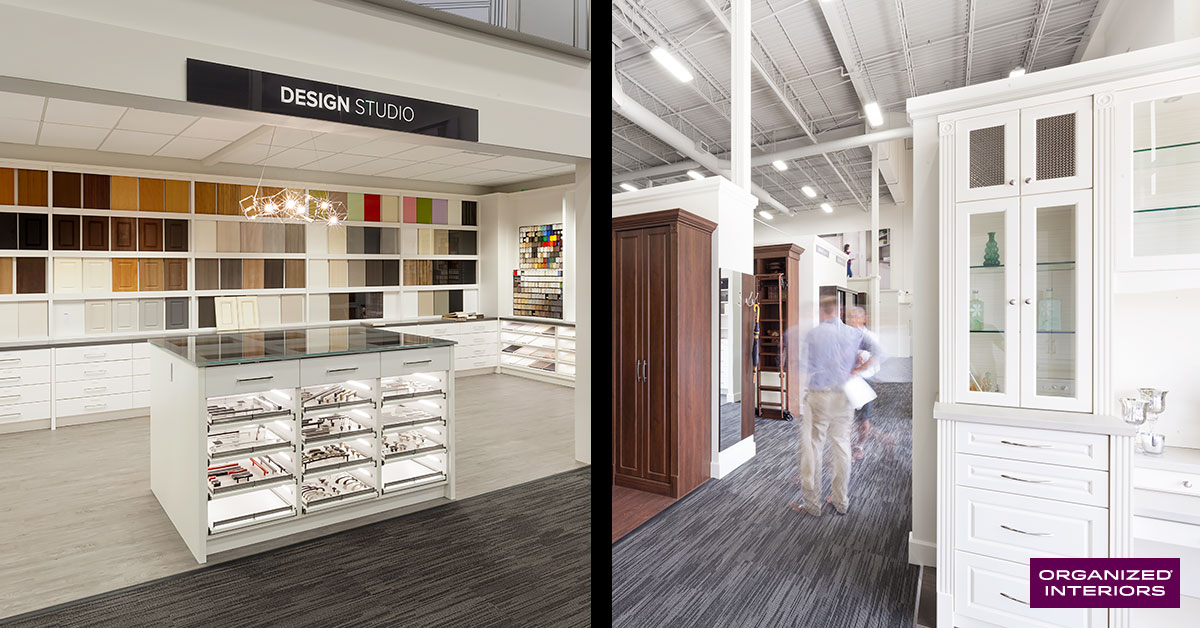 Organized Interiors has been a leader in custom closet design and home organization and storage solutions for more than 40 years.
Our spacious showroom in Vaughan proudly represents where those many years of experience have brought us.
The 10,000 square foot showroom is filled with lots of inspiring ideas and the best products available for improving your home's storage and organization functionality.
We think there are lots of great reasons for taking the time to visit the Organized Interiors showroom. Here are five of them.
1. Get inspired in the Organized Interiors showroom
Some visitors to the Organized Interiors showroom have a specific product (or several) in mind they want to learn more about. They've probably initially viewed the product(s) on our website.
Many of our clients, however, visit our showroom with a specific purpose in mind and end up discovering other great solutions for improving their home they hadn't considered.
A visit to learn more about our world-class custom closets, for example, might result in someone falling in love with what we can do with home office spaces or a laundry room.
Inspiring your creativity with a visit to our showroom can lead you down any number of unexpected paths.
The Organized Interiors showroom also shares display space with our neighbours, Garage Living. Who knows, you may even leave with a few ideas for transforming your garage!
2. Ask us anything
Our helpful design consultants are a fountain of knowledge when it comes to smart ideas for making your home look and function better.
Take advantage of their expertise and creative minds by asking them anything about which home storage and organization products and systems might best suit your needs.
The design consultants can provide guidance in a wide variety of areas. Maybe you're wondering what type of finish or decorative hardware will work most effectively with the custom cabinetry you have in mind for a project.
Perhaps you're curious as to whether that spare room you have is the right size to accommodate a dressing room/large walk-in closet. Ask away.
At Organized Interiors, we like to get to know our customers. Starting a dialogue with our design consultants during your Organized Interiors showroom visit helps to get that relationship started.
3. Try our products
The very best of our products for every room in your home are on display in the Organized Interiors showroom. You'll find lots of carefully created and realistic home room settings throughout the space.
Great photography and detailed product descriptions are certainly helpful when it comes to understanding what a product offers. But there's no substitute for experiencing the real thing.
Viewing our products in person and getting a hands-on experience with them will give you the best sense for which products best align with your home's functional and aesthetic requirements.
We especially encourage anyone visiting to try out all of our high quality products for yourself. Doing so will really allow you to appreciate the careful attention to detail that goes into everything we sell.
Organized Interiors designs and manufactures our products on-site. It's our feeling that the high standards we have for each and every product we manufacture will be evident to any visitor sampling Organized Interiors' diverse array of products.
4. Discover how much you can customize
Organized Interiors' great products and exceptional customer service are a big reason reason the majority of our business comes from referrals.
Our many satisfied customers also recommend us to friends, families, neighbours, and co-workers for another reason – the wealth of custom options we provide.
Our bespoke cabinetry for all areas of your home can be tailored to your specific design preferences. Visit the Design Studio in the showroom to get an idea of the hundreds of types of laminates, melamines, solid surfaces, and granites you can choose from.
The Organized Interiors showroom also features our Artware Gallery, which has the Greater Toronto Area's largest selection of Richelieu Hardware. Browse through hundreds of samples of the highest quality decorative hardware of all styles, created by world-renowned designers.
The more customization options available when having your bespoke cabinetry designed, the more you'll be assured of ending up with a finished product you're 100% satisfied with. You're also able to add more of a personal touch to the design.
You'll find that's one of the biggest advantages over buying cabinetry or closet organizers at a big box store, which limits you to far fewer options.
5. Pick up an Idea Book. Take your time browsing.
While you're at our showroom, be sure to pick up a complimentary copy of our new Idea Book. It can also be downloaded here.
The Idea Book is loaded with vivid images and detailed descriptions of all our products and services. Many photos featured in it are from projects we've worked on in our customers' homes.
The Idea Book and showroom nicely encapsulate exactly everything Organized Interiors offers.
Take your time browsing through the showroom, without feeling any pressure to make a buying decision until you're completely ready.
The Organized Interiors showroom is worth the visit
The Organized Interiors showroom is conveniently located at 201 Chrislea Road in Vaughan, right at Highway 400 and Highway 7.
We encourage you to visit and view and our wide selection of premium products that make space for living more comfortably. You'll be glad you did.
If your busy life makes a trip to the Organized Interiors showroom less convenient for you, no problem. Just schedule a free in-home design consultation with us.
One of our design consultants will be happy to visit your home to discuss ways in which we can bring more order and functionality to any space in your house or condo.
See also: