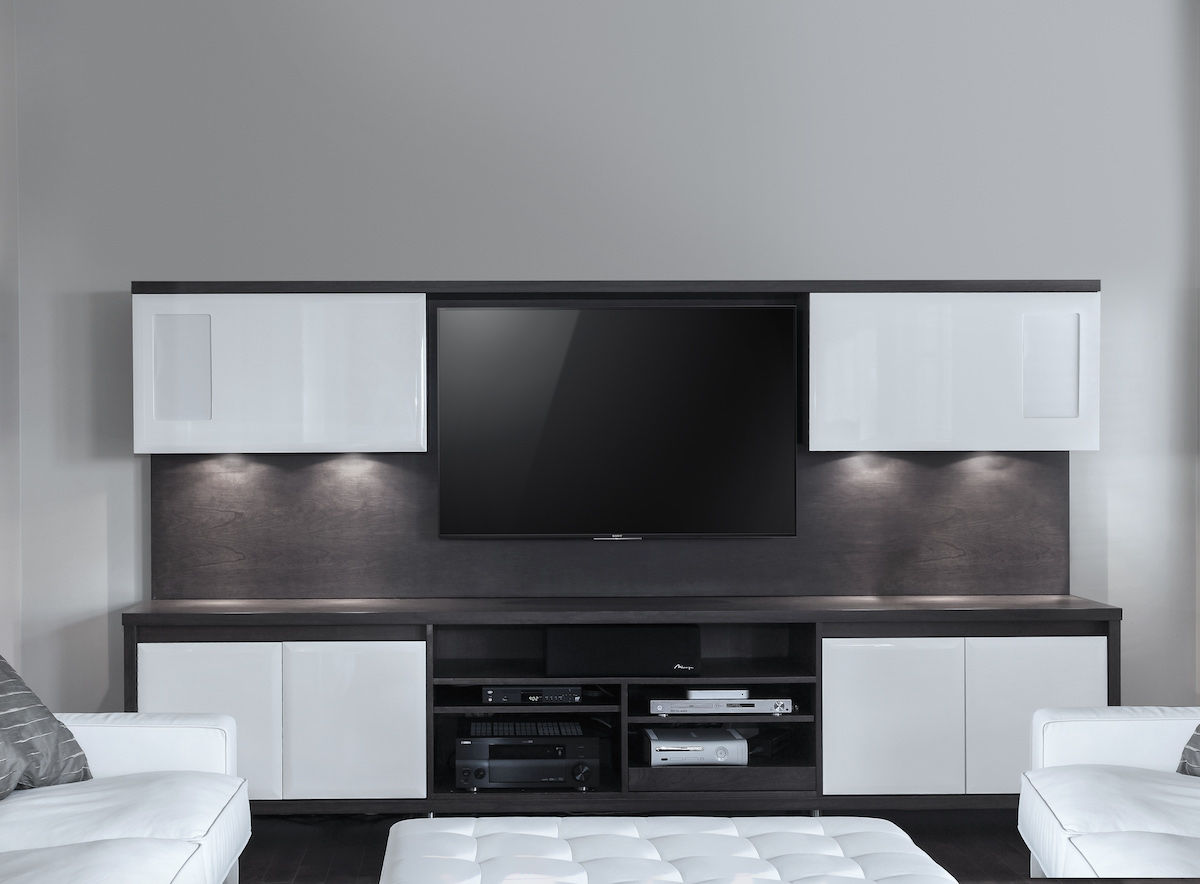 Despite the popularity of mobile devices, there is still very much a place in the home for a dedicated room that's optimized for the best viewing experience.
Watching movies, TV shows, and other streaming media on a tiny smartphone or tablet screen has its limitations.
It simply can't compare to the communal experience of enjoying your entertainment with a group of friends or family on a large TV screen, with a good surround sound system to enhance your sense of immersion.
One of the best ways to create the perfect viewing space at home is to upgrade a room with a home entertainment centre.
Why a home entertainment centre instead of a home theatre?
Having a standalone home theatre room that's outfitted with a high-end projector, huge professional projection screen, state-of-the-art sound system, and ultra-comfy chairs sounds great in theory.
While a home theatre may be the next-best-thing to an actual trip to the movie theatre, for most homeowners they're simply not practical.
They may not have the space for a home theatre or the budget to set one up properly. For many homeowners, however, having a home theatre will be just a little too niche for their taste.
There's also the fact that the addition of a home theatre provides a poor return on investment.
That's why a home entertainment centre (also known as an "entertainment unit") makes so much sense.
Create a tidy space for all your tech
The number of gadgets and devices we to use to consume all of our media these days can be downright head-spinning.
In addition to your TV, your living room or recreation room where you do your viewing likely contains many of these types of tech devices:
cable or satellite receiver/PVR
video game console
streaming box
surround sound system or soundbar
Blu-ray player
virtual assistant/smart speaker (like the Apple HomePod or Amazon Echo)
modem and router
an external hard drive for extended media storage
Trying to keep so many devices and their many cables organized isn't easy. That's one of the things that makes a customized media storage unit like a home entertainment centre so special.
Every device and the storage space they need will be taken into account in order to create a clean, organized home entertainment hub.
A custom home entertainment centre also effectively manages all the cables that are part of your setup so they're tidy and hidden, instead of an unsightly, tangled mess.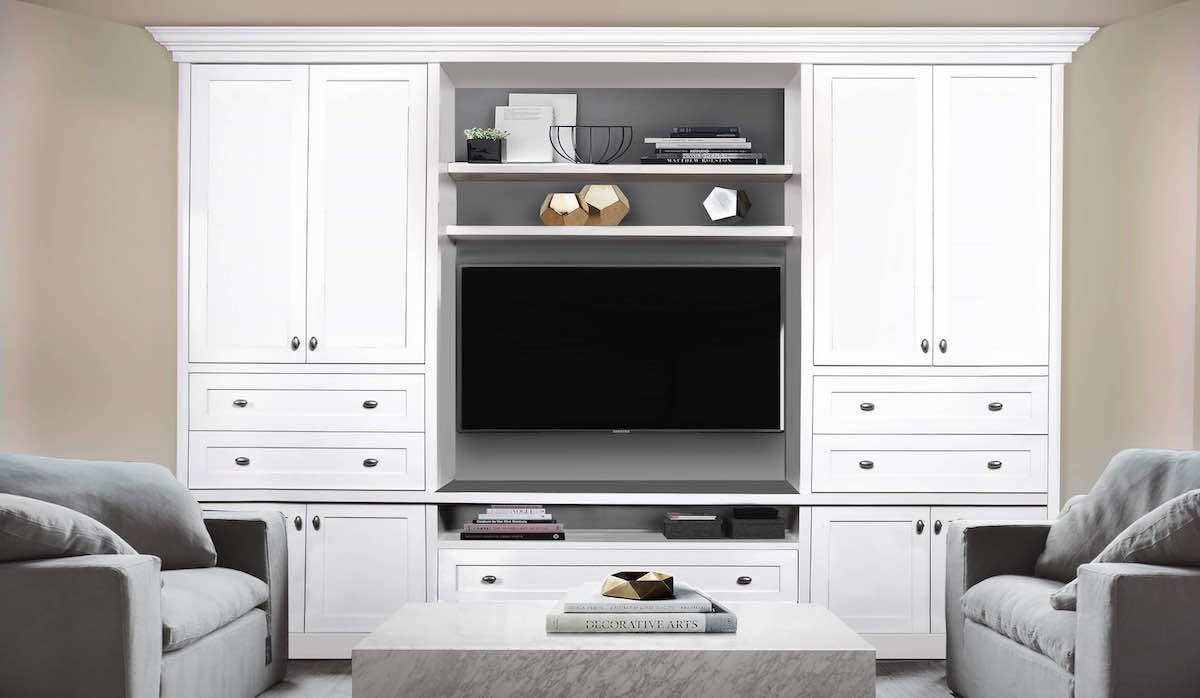 Organize your accessories and media
On top of all those audio and video components, there's also all the accessories that comes with them that need to be kept organized.
Remotes, gaming controllers, and other accessories used in your viewing room can cause clutter and get lost easily without some manner of organization. TV remotes, in fact, are the most commonly misplaced item in homes.
And while streaming's popularity has shrunk the physical media collections in many homes, some homeowners still have Blu-rays, DVDs, vinyl records, and CDs they might not wish to part with just yet.
A home entertainment centre is a practical, all-in-one piece of furniture that creates media and accessory storage space that surrounds the devices you watch or listen to everything on.
Remotes and accessories like spare cables can be kept organized in spacious drawers. Your stored media can be kept hidden behind cabinet doors to maintain a clean room aesthetic.
Or, if you prefer to show off your impressive Blu-ray movie collection, you could store them on open shelves.
The benefits of a custom home entertainment centre
A custom home entertainment centre isn't just built to fit the storage needs for all of your electronics and media.
You can also have it designed to effectively complement and blend seamlessly with your home décor by choosing finishes and the perfect style of decorative hardware.
A wide range of cabinet door styles are available, from metal grill to glass to solid panel. Refined touches like LED lighting can further enhance the look of a home entertainment centre.
And to really add to the ambiance of your viewing room, an electric fireplace can even be incorporated into the entertainment unit's design.
A mini bar could also be added to truly make your viewing room the perfect inviting space for hosting get-togethers.
One-of-a-kind home entertainment centre designs
Choosing the right type of home entertainment centre is important because it will be the centrepiece of your living room or whichever room it's located in.
To enhance your viewing space with a one-of-a-kind custom home entertainment centre, schedule your free in-home design consultation with Organized Interiors.
Please share this post if you found it useful.
See also: