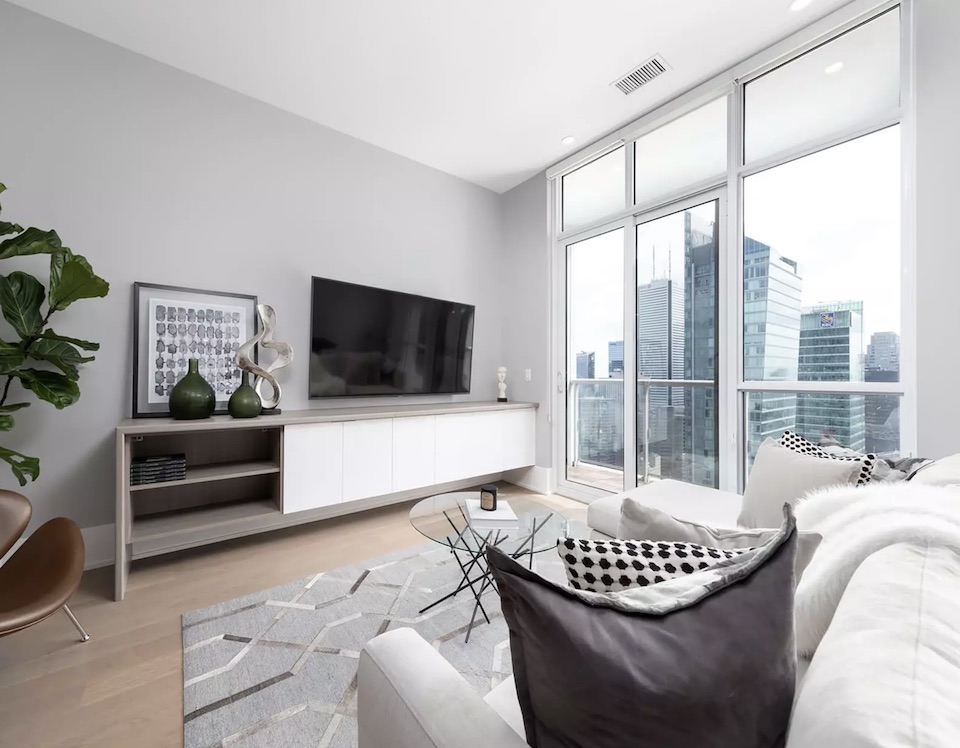 With today's incredible 4K TV technology and the highly immersive audio experiences delivered by surround sound systems, there's never been a better time for enjoying movies and TV shows at home.
There are so many different types of audio and video components and accessories available nowadays. To accommodate them all and keep everything organized, it's smart to use some sort of storage system as part of your home entertainment setup.
Entertainment units are your best choice for this purpose. They're also commonly known by some other names:
entertainment hubs
home theatres
entertainment centres
home media centres
Why looks matter with entertainment units
While entertainment units serve a functional purpose, the importance of how they look shouldn't be underestimated. Most entertainment units will be located in highly visible areas of the home. The living room, great room, and family room are popular locations for them.
Depending on the size of your home entertainment setup, an entertainment unit will typically be the focal point of the room it's located in. That's why the appearance of entertainment units matter.
When you want a higher quality look for your entertainment unit, choosing a custom-built model for your home makes the most sense. Custom entertainment units may cost a little more, but they're certainly worth it.
These seven reasons will show you why custom entertainment units are superior to cheaper models found in big box stores.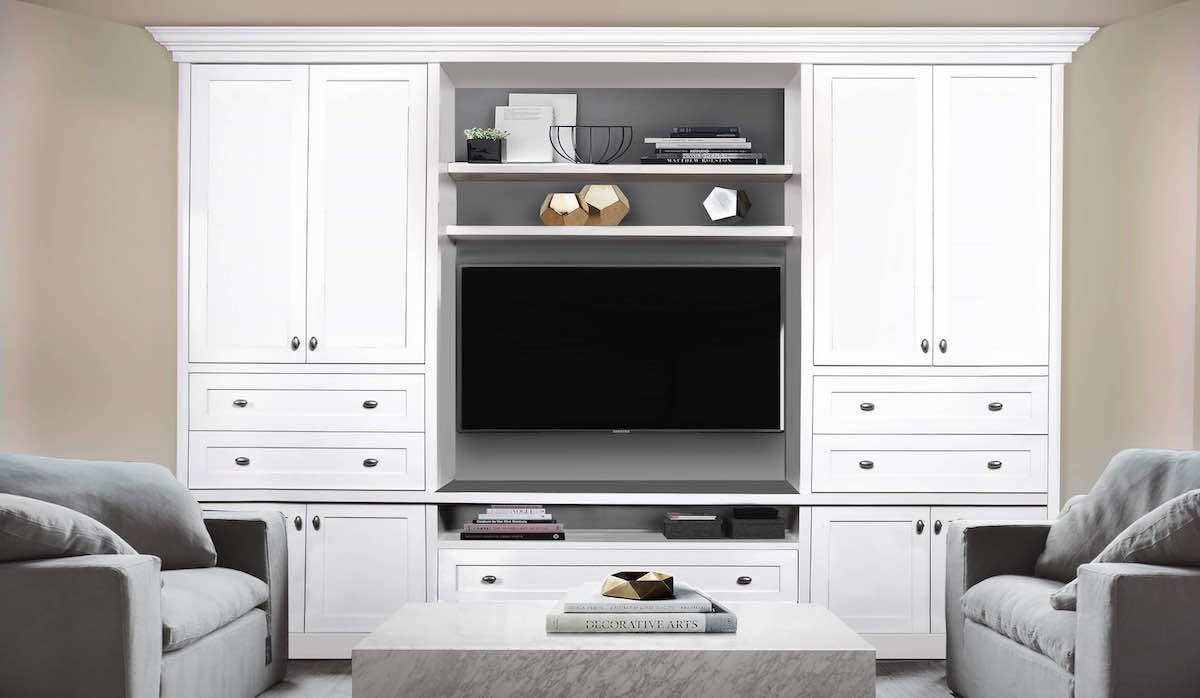 1. Custom entertainment units give you more design and finish options
Shop for entertainment units at a big box store and you'll likely be disappointed with the lack of designs and finishes available. Mass-produced, off-the-shelf entertainment units are designed to appeal to as many consumers as possible. The problem with that philosophy is that everyone's taste is very different.
This means that more often than not, big box store furniture purchases are accompanied by some degree of regret, disappointment, or the feeling you had to settle. With an entertainment unit, you might have had to compromise on one or more of its elements, such as the furniture's finish, configuration, or size.
The shortcomings of big box store entertainment units are really highlighted when you look at what a custom entertainment unit offers in comparison. Instead of choosing from perhaps three or four different finish colours, custom entertainment units allow you to create literally hundreds of different looks for your cabinetry.
Modern technology allows custom cabinetry finishes to be highly customizable to suit your design tastes. You can choose from a huge selection of melamine and laminate finishes that realistically duplicate the real appearance of wood. If you want a more contemporary look, you'll love the plethora of solid colour finish finishes available.
Simply put, there's no "close enough" when it comes to how your custom entertainment unit will look. Need more convincing? Visit the Design Studio in Organized Interiors' showroom to see the hundreds of decorative panel samples available for our custom cabinetry.
2. Custom-built entertainment units allow for more sizing options
The one-size-fits-all nature of a retail outlet's furniture inventory severely limits your choice of entertainment unit sizes. Just as with the unit's look, everyone has different needs for how big their entertainment unit needs to be.
The size of your entertainment unit will be based on a few factors:
the number and size of audio/video components you need to fit within it
the size of your TV
how much space you want for storing media (like Blu-rays) and personal items like pictures
whether or not you're looking to create a room showpiece that includes extra features like a bar or electric fireplace
The beauty of custom cabinetry is that it's built to custom-fit your space and can be manufactured to your exact needs. Whether you need a smaller entertainment unit for the corner of a room or a wall-to-wall, floor-to-ceiling room showpiece, going the custom route gives you much more freedom.
A custom entertainment unit can be built to perfectly accommodate each piece of electronic equipment and anything else being stored. Space won't be wasted, for example, by having your TV sitting in an enclosure that's too big.
We manufacture all of our custom cabinetry on-site at Organized Interiors, which ensures strict quality control. And you won't need to endure the headache of transporting the entertainment unit home and wasting hours assembling it. Our professional installers will make sure your new entertainment unit fits perfectly in your home.
3. You can add extra appealing features
You'll be hard-pressed to find an entertainment unit in a big box store that can incorporate a bar or fireplace. Custom entertainment units, on the other hand, allow for the addition of these great extra features.
Adding an electric fireplace or electric firebox that sits below your TV within an entertainment unit makes your custom cabinetry look even more dynamic. And electric heating also provides lots of other benefits.
Instead of an electric fireplace (or perhaps in addition to it), you could also add a liquor cabinet and bar to your entertainment unit. Along with enhancing the visual appeal of entertainment units, these types of extras save space and also add useful functionality.
The ability to customize lets you choose even more extra features that add to the aesthetics of an entertainment unit. For example, you can incorporate strategically placed LED interior lighting, along with various panel, glass, and metal grill door styles. You can also customize the decorative hardware of the entertainment unit.
4. Custom entertainment units last longer
Assemble-it-yourself furniture is rather infamous for its inability to provide you with a long life. A combination of poor construction materials and sub-par craftsmanship will result in sagging shelves and peeling finishes long before you'd care for.
Investing in a better-looking, more reliable product with custom cabinetry and furniture will serve you better in the long run. The higher quality of wood, superior craftsmanship and durable finishes that custom entertainment units have will translate into a much longer life.
Another benefit of higher quality cabinetry is that it can be moved easier if necessary. Flimsy self-assembled furniture tends to not break down and transport very well if you end up moving. Sturdy cabinetry will be more resilient in such circumstances.
And although handcrafted solid wood furniture pieces made from oak, cherry hardwood, and other fine wood species look beautiful, even they have some drawbacks. There's the high cost, of course. They can also crack and warp in locations with moisture levels that aren't ideal, which can cause the wood to contract and expand.
5. Complement and enhance your home's décor
Entertainment units are more than just a glorified TV stand and stereo cabinet. The great care and attention paid to every detail that goes into the design and manufacturing of a custom entertainment unit can result in a truly special upgrade to your home's décor.
Because an entertainment unit tends to be the centrepiece of a room, it needs to complement your existing décor. Matching the colour schemes and styles of your furniture, walls, and other features are critical to maintaining the warm, inviting look of a space that will see a lot of use by the entire family.
The design flexibility that custom entertainment units provide makes that significantly easier to accomplish. Conversely, the limited options that big box store furniture pieces have can result in cabinetry that detracts from your home's décor. Their colours, style, and size may be poorly suited to their surrounding environment.
6. Keep everything well-organized
Entertainment units enable you to maintain a well-organized space by creating a proper home for everything, which eliminates clutter.
Remotes, gaming accessories, and other peripherals and extra cables cluttering your room can be hidden away in drawers, overhead compartments, and behind doors.
Collections of Blu-rays, DVDs, and other media can be stored behind doors or neatly on open shelving. Open shelving also allows you to personalize your entertainment unit by displaying photos, pictures, or other personal effects.
Well-designed entertainment units will also hide all of those cables and wires that are connected to our many electronic components. Even the most stylish, expensive entertainment unit loaded with extra features won't be as impressive-looking if an unkempt bunch of cables and wires is left in plain sight.
7. Enjoy a better overall viewing experience
Having cabinetry that's specifically designed to accommodate everything involved with your time spent watching TV shows and movies simply enhances your overall viewing experience.
Having the perfect media centre setup in your living room, family room, or basement will mean you can comfortably enjoy your viewing in a clutter-free space that also looks fantastic.
It'll be a space that lends itself well to showing off to your guests, as well as entertaining them.
Add style and functionality to your home
Are you looking to modernize and upgrade the storage system for your TV and other electronic components? If so, custom entertainment units are the smart choice for your home.
Schedule a free in-home consultation so one of our design consultants can discuss your entertainment unit design goals with you.
See also: